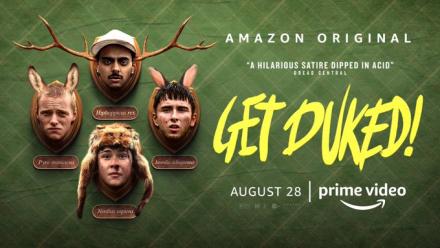 I know we are running short of new product because of lockdown, but have we got this desperate yet? Get Duked! is a mess of a film that has plenty of energy but not much in the way of style as it follows the adventures of four hapless lads who get more than they bargain for when they set off to do the Duke of Edinburgh award in the Highlands.
Maybe I was expecting a Scottish version of Deliverance. What Get Duked! is is a hotchpotch of Trainspotting, People Just Do Nothing, The Young Offenders and maybe a hint of Sightseers. 
Dean (Rian Gordon), Duncan (Lewis Gribben) and DJ Beatroot (Viraj Juenja) are the three dodgy teens joined by nerdy Ian (Samuel Bottomley) as they battle their way through the thistles. No sooner have they been left to their own devices than they are being shot at by the Duke in question, played by Eddie Izzard in a creepy mask that evokes Leatherface in The Texas Chain Saw Massacre. Heatherface if you like. 
The Duke is busy with his "annual cull to keep the integrity of the species under control" and seems to have the foursome in his crosshairs. But the plot is a little more complicated than that. There is also the case of a bread thief for the Hot Fuzz-style local police, Morag and Hamish to solve. 
The film, originally called Boyz in the Wood, doesn't really do much in the way of plot. Instead we follow the action from incident to incident via a mushroom-induced rave with the locals until the rather contrived finale that ties up various loose threads. 
Director Ninian Doff keeps things moving with occasional flashes of wit but at the expense of any real emotional involvement. And as for Eddie Izzard, you could write a book about his film career which has taken in some pretty odd turns over the years. Maybe Get Duked! will build up a cult following like the aforementioned Hot Fuzz. But somehow I doubt it. 
Get Duked! is on Amazon Prime Video.