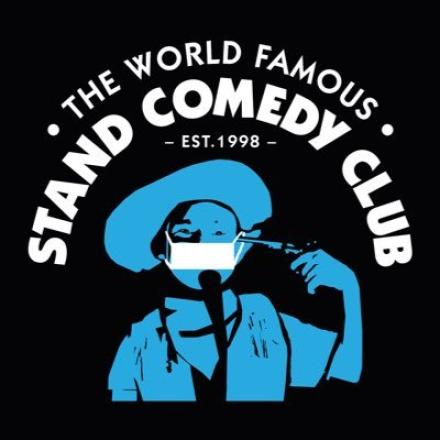 Comedians and fans from all over the UK have shown their support for The Stand, one of the most established, respected comedy chains in the UK.
There are three venues, in Edinburgh, Glasgow and Newcastle, and the chain has, like many comedy clubs and venues, hit a major financial crisis during the Covid 19 pandemic that forced them to close down in March. 
It is now asking for donations from fans but is also calling on the Scottish government and Creative Scotland to offer financial help.
Kevin Bridges tweeted: "My first open mic set was@StandGlasgow over 16 years ago. Eva, Jane, Tommy etc helped me develop all the way through my career and it's still the best comedy club in the UK. Come on @scotgov @NicolaSturgeon Sort them oot! @StandComedyClub #savelivecomedy"
In their newsletter the Stand wrote: "Since Covid-19 with no customers through the doors the clubs have a trading loss of 342K and as of yet have received no funding from arts funding bodies Creative Scotland and the Scottish Government need to step up and help before it's too late. Without their support there will be no Stand Comedy Club providing a real living wage to it's employers, Providing revenue for acts and supporting charities. There will be no clubs to provide entertainment enriching the culture of the country."
Stand-up Mark Nelson, who regularly performs at The Stand, which has been streaming online gigs in recent months, wrote in Scottish newspaper The National, highlighting how stand-up often misses out on funding because it is not considered to be an art form: "Our industry will be one of the last to re-open and without help, it may never re-open. With punters not coming through on a nightly basis, venues like The Stand, Monkey Barrel and Rotunda are on an absolute knife edge to survive. So far, the help given has been non-existent.
Creative Scotland (CS), up until recently, hasn't recognised stand up comedy as an art form. You can stand on stage and recite Wordsworth – art. You can express your inner monologue through dance – art. You can play Bohemian Rhapsody on the Norwegian nose flute – art. Standing solely on stage, with your own words, your own experiences, making an entire room of people laugh – not art."
Comedian Daisy Earl posted on Facebook: "Scotland has an incredible live comedy scene and it is so important to me - it has to be saved! The Stand Comedy Club, Edinburgh is my spiritual home.The Stand Comedy Club, Glasgow is one of my favourite places, Monkey Barrel Comedy is one of the coolest clubs I have ever been to and properly grass roots, Breakneck Comedy has as incredible atmosphere and Gilded Balloon ose Theatre is ridiculously fun to play. And beyond that there are so many amazing pop up venues and a thriving and supportive scene. I love Scotland and I love Scottish Comedy so I really hope the Scottish government does everything they can to support it. #savescottishcomedy#spiritualhome#alba"
Following this story a number of comedians tweeted their support for the club. Edinburgh Comedy Award winner Richard Gadd tweeted: "This is CRAZY news! The @StandComedyClub is not just a cornerstone of comedy, but a cornerstone of culture in every city they are in. It is where the best comics plied their trade. Please donate here and #savelivecomedy: http://thestand.co.uk/donate."
Ed Gamble wrote: "This is horrifying and can't be allowed to happen. All of the Stands are beacons of quality and hugely important to the cities they're in and to the UK comedy scene as a whole. All of them have something uniquely magical about them. Surely deserving of all the funding they need"
Fern Brady tweeted: "The Stand gave me my first gigs, first weekend, first Fringe show and Tommy himself got me my first TV gig on a Stewart Lee show. They're THE place to start comedy in Scotland so no bailout is unthinkable."
Richard Herring tweeted: "The entertainment industry is worth billions of pounds to the country. If it closes down we're all in trouble in the long run. We've all stepped back to save lives and it's the govts job to keep everything going. It's only failing cos country closed down."
Susie McCabe said onstage at the Stand during a streamed gig: "I'll tell you what is tough, when your government tell you as a comedian, or as a comedy club or as a promoter, that your not an artist. That's what happened in this country. Not just The Stand, all the clubs." McCabe spoken passionately about the gigs she had played at The Stand: "like every club in Scotland they have been left high and dry by Creative Scotland."
The Stand, which has recently started running socially distanced small open air gigs in Newcastle, has tweeted: "Please please please if you can, donate to help #SaveLiveComedyhttps://thestand.co.uk/donate Please also take a few moments to email your local MSP - you can find their details here.