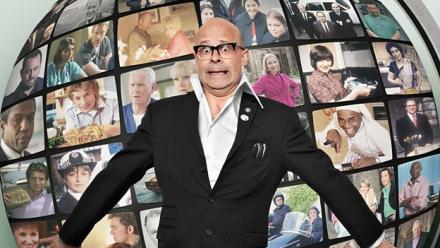 Since TV Burp ended way back in 2012 we've been waiting for the next perfect Harry Hill vehicle. Harry Hill's Teatime, Harry Hill's Alien Fun Capsule and Harry Hill's Clubnite have all captured his unique madcap genius without quite scaling the heights of Burp. Now he is back again and this time he is looking at television again. So can this one be Burp's natural successor? There's only one way to find out. Well a couple - you could watch it or read this review...
The structure here is pretty different to Burp. For one thing we don't see as much of Hill. He appears mainly at the start and finish so we don't get quite as much visual lunacy as we would like. But anyone who has enjoyed his narration on You've Been Framed in recent years knows that you don't have to see those oversized collars to find Hill hilarious.
In the first episode he presents his guide to soaps. It's a typically indiosyncratic look at the history of the genre, mixing genuine facts with his trademark brand of off beat observation. So we learn about the history of soaps from The Grove Family in the 1950s to the present day. Between the gags there are even genuine facts. Sometimes it looks like a spoof but it is actually real and well-researched (I'd completely forgotten that there was a Brookside character called Alan Partridge). I'd never heard of a long-lost sitcom called The Newcomers. And the fact that an entire scene features a woman clearing away ash trays in a pub probably explains why it's long-lost).
Coming more up-to-date there are some very Burpish comments about the camera angles in Crossroads and the use of cheese to move seamlessly from one scene to another. And there is plenty of footage of explosions and fires and trams crashing. Someone has done some very thorough research to come up with the more ridiculous clips. Naturally there is plenty of EastEnders.
It would have been nice to have seen more of Hill. I did wonder if they had to steer clear of making the programme format too much like Burp for copyright reasons as it is made by a different production company for a different channel. Or maybe lockdown restrictions put limits on them – Hill filmed and edited it at home. But whatever the reason it's great to have him back on BBC Two. In fact it's great to have Hill anywhere.
Harry Hill's World Of TV, BBC Two from Sunday, 23 August at 8.30pm.