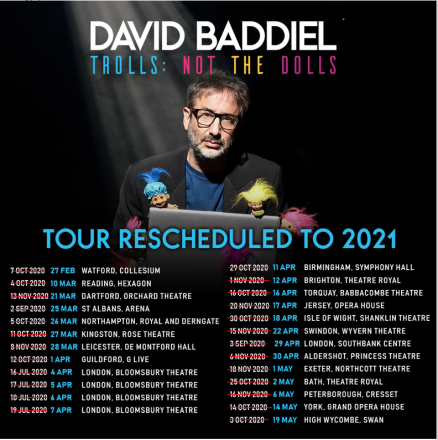 Update dates have been moved again since this story. Click on the tcket link at the bottom for the most up-to-date dates.
David Baddiel has rescheduled the 2020 leg of his Trolls: Not The Dolls tour. 
The new dates now currently run from the Rose Theatre in Surrey on March 27 to the Swan Theatre in High Wycombe on May 19.
Previously purchased tickets for the equivalent shows will still be valid or contact the place where you purchased them for refund details.
Baddiel tweeted: "The half of my #TrollsNotTheDolls tour I never got to do has been furloughed again, now until next year, please God in whom I do not believe."
And, referring to his image in the picture: "My face seems to me to be getting more and more fed up with the postponing as time goes on..."
In his latest show Baddiel explores the world of Trolls – the terrible people who spend all day insulting and abusing strangers for no other reason than to fill the huge gaps in their souls. There is a common wisdom about how to deal with trolls: don't, for goodness sake, encourage these people by replying to them.
It's a good law. But one that David Baddiel has consistently broken. Because David has always seen trolls as hecklers, and if a comedian gets heckled, it is their duty not to ignore the heckler, but to wittily put them down.  Over the years, David has spent a lot of time doing this, which has led him to think that there might be a show in it: a show that would say something about how we live now. 
David has stories to tell, of the dark, terrible and hysterically absurd cyber-paths that interacting with trolls has led him down.  Come with him on this comedy journey into our culture's most dank virtual underground.  You will come back safe, more able to deflect your own trolls, and only a little bit soiled.
This show is the third in a series of shows from David Baddiel following the critically acclaimed My Family: Not The Sitcom (2016) and Fame: Not the Musical (2013), which saw David return to live comedy after 15 years.
Buy tickets and see all the tour dates here.