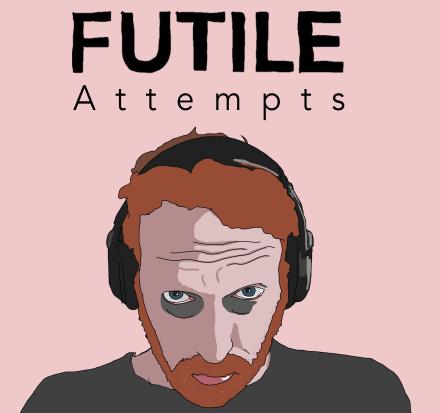 Award-winning performance artist and comedian Kim Noble is set to launch a brand new 10-part podcast entitled 'Futile Attempts (At Surviving Tomorrow)', with weekly episodes released on all Podcast Apps, from 19th August.  
Unlike any podcast you've heard before, 'Futile Attempts (At Surviving tomorrow)' mixes live field recordings with a voice over narrative from Kim. Armed with a hidden mic stuck under his jacket, Kim captures recordings from characters who become embroiled in his absurd life. Featuring archive footage of various break ups from his past, phone calls to Kevin Costner's agent and conversations with his Mum, this ludicrous comedic sonic journey takes you to Sting's mansion, down a sewer, underneath a church altar and into the arms of a Hounslow based cult. 
Produced by Novel, each episode sees Kim attempt to find reasons and methods to survive life.  Exploring a universal theme in each episode, Kim takes the listener on a journey to the centre of his warped reality. Starring Julian Barratt as God, Adam Buxton as himself and a 'bloke Kim sometimes chats to on a park bench' as himself, with sound by award-winning composer Benbrick.   
Using his provocative and humorous style to expose the human condition: Kim Noble explores notions of death, sexuality, gender and religion with dry comedic wit of tragedy meshed with absurdity.  
Kim Noble was one half of the Perrier best newcomer Award-winning, BAFTA-nominated experimental art-comedy duo Noble and Silver. He's since featured in shows including The Mighty Boosh, and performed critically acclaimed solo shows worldwide including Kim Noble Will Die in 2009 and the award winning You're Not Alone in 2015, about loneliness and his father's dementia. 
Futile Attempts (At Surviving Tomorrow) will be released weekly on all Podcast apps from 19th August and released as a full box-set series on Spotify on the same date.