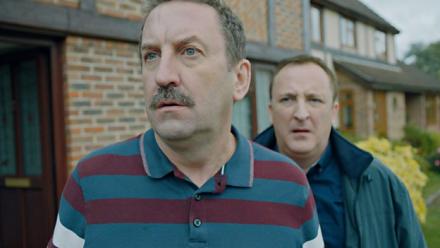 New Lee Mack sitcom? The stand-up star is more like Lee Manic here, pinballing from one domestic suburban crisis to another while barely pausing for breath. The USP gimmick, from writers David Crow and Oliver Maltman (a familiar actor/sitcom face himself) is that events happen in real time. But I think if all the things that happen to Mack happened to me in such quick succession in this opener I'd either be dead or in hospital by the end of it. 
We pick up the action four months after the pilot which saw Mack's younger new agey second wife April (Ellie White) rushed to hospital to have their baby. Things don't seem to be going so well now and she is just back from a spa break and a spot of reflection. Can Stuart (Lee) do enough on a "day date" win her back? The roast is ruined but at least he has remembered to put on the dream catcher she likes…
Burnt potatoes are the least of wedding DJ Stuart's woes however. All he wants is some peace and quiet but his dad (Clive Russell) is preening himself and talking about anal bleaching and his dodgy brother (Neil Fitzmaurice) is getting in the way of romance too. 
Throw in some bickering neighbours (Geoff McGivern and Cecilia Noble), his ex-wife (Sam Spiro) and oily husband (Patrick Baladi) who live opposite and you've certainly got a lot going on. And that's before we've even mentioned dad's special hummus. 
It's interesting that this is on BBC Two because it's really only a whisker away from being a mainstream BBC One sitcom. The script has some excellent lines and gags and a little bit of unexpected gross-out humour too. The jazzy drumbeat soundtrack is more BBC Two though. It feels like it has come out of a pretentious French new wave film rather than a contemporary farce. 
And while Lee Mack is clearly the star – I wonder if they've given him a moustache so that people don't think this is a lost episode of Not Going Out – he has some great support from the ensemble cast, with everyone doing their bit. Well worth a watch, though if you are of a sensitive disposition it might put you on edge as well as leave you laughing your socks off.
Semi-Detached, Thursdays from August 6 at 10.05pm, BBC Two. (note - some listings say it starts at 10pm so tune in then just to be on the safe side)