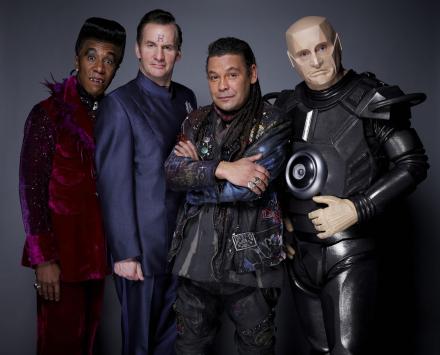 Dave is to broadcast a major definitive celebration of Red Dwarf, the most successful sci-fi sitcom of all time, entitled Red Dwarf: The First Three Million Years
Over three episodes viewers can go on a journey through space and time to chart the history of Lister (Craig Charles) the lonely space-bum, Rimmer (Chris Barrie) the failed hero, Kryten (Robert Llewellyn) the spaceship-cleaning mechanoid and Cat (Danny John-Jules), the vainest non-human ever to be trapped in space.
The story will be told through the eyes of co- creator, writer and director Doug Naylor, the cast, the crew, and celebrity fans.
With the aid of the memories of the key contributors including all the main cast, the origins of Red Dwarf are traced, from almost being cancelled while still on the BBC launchpad due to a lengthy electricians' strike, to achieving lift off via spectacular viewing figures which ensured the commission of further episodes with unprecedented speed.
The series will also be showing previously un-broadcast scenes and the best of the many and varied 'smeg-ups' of the last 32 years while leaving no kipper unsmoked in the quest to feature some of the greatest moments and funniest gags from the entire back catalogue of 74 incredible episodes.
Episode one, The Boys From The Dwarf, will be broadcast on Dave on Thursday 6th August, 9pm. (Catch-up on UKTV Play)