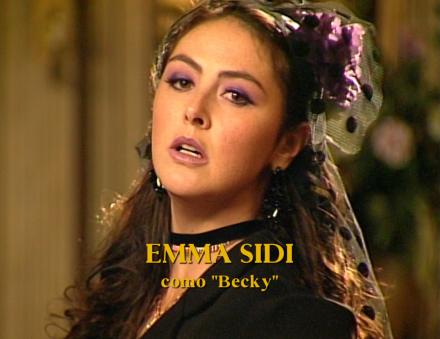 Emma Sidi stars in the self-penned web pilot La Princesa de Woking, "a totally ridiculous Spanish-Language soap opera set in a British cul-de-sac".
It is directed by award-winning directorial duo Big Red Button. The pilot episode is released online on the 5th June at 9am at the link below.
Adapted from Sidi's 2016 critically acclaimed sell-out Edinburgh Fringe show 'Telenovela', La Princesa de Woking combines the velvety, 1980s golden era of the telenovela aesthetic of flimsy sets and soft focus melodrama, with the stark British reality of Boots meal deals, NHS waiting times, passionate Brexit views and unimpressive cul-de-sac exterior shots. The pilot has already been screened on the festival circuit, having played at the Chicago Comedy Film Festival, New Orleans Comedy Film Festival, London Comedy Film Festival and the Canadian International Comedy Film Festival.
Directing duo Big Red Button (AKA Johnny Burns and Pier Van Tijn approached Sidi with the idea to translate elements of it into a short form series. Rather than spoofing the telenovela genre, they were interested in working within it to create comedy from outrageous storylines and dialogue played straight, and from the massive contradictions in mashing together 1980s Mexican telenovelas and contemporary post-Brexit Woking.
Comedian/actor/writer Sidi is known for playing the insufferable influencer Millipede in Liam Williams's BBC 4 series Pls Like as well as popping up in comedy series, such as Stath Lets Flats, King Gary and W1A. Her fluency in Spanish from a study abroad year in Mexico has given her a unique point of view with regards to her culture-clashing comic creations.
Complementing Sidi is an incredible cast of native Spanish speakers from all over the globe, spearheaded by Cold Feet's Jacey Salles. "Working with an entirely bilingual cast was a total joy! We were really lucky to get such seasoned and competent performers, but they all loved the idea, and committed to it wholeheartedly and managed to keep perfectly straight faces throughout" Sidi reflects. "Performing in something you've written and created is naturally nerve-wracking, but thankfully the telenovela by its nature requires such strong strokes in terms of acting, that I just went with the mantra 'If in doubt, throw your head to the side and look shocked in a sexy way'.
"A lot of fun in this production came from repeatedly asking ourselves 'what would a real telenovela crew do in this situation?' We managed to track down some vintage cameras that gave us an authentic and ridiculous look , and one of our favourite moments is when Maria Buckingham (executed perfectly by Jacey Salles) falls down the stairs (or was she tripped?). The brief glimpse of bearded stuntman, and the repetition of the action from two different angles to really squeeze our money's worth out of the stunt, before a jarringly a-continuous cut to the actress coming to rest at the bottom of the stairs felt like it hit that double sweet spot of staying absolutely true to the genre, while also sending it up for comic effect" recalls Pier Van Tijn.
Watch La Princesa de Woking from 9am, Friday, June 5 here.