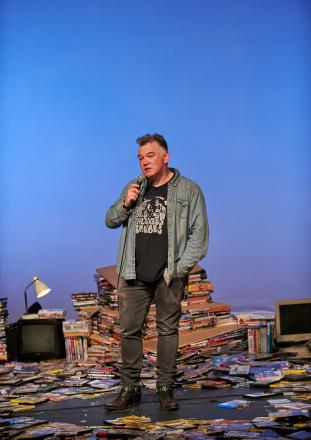 A column written by Stewart Lee and published in The Observer on Sunday has prompted members of the UK Jewish community to respond.
In the article, entitled "Now Boris Johnson is talking through his Tugendhat" Lee took issue with Tom Tugendhat, the Conservative MP for Tonbridge and Malling, who Lee said had tweeted about Boris Johnson's Sunday night broadcast/speech that it was a very clear message. 
Lee homed in on his name for comic effect: "This former intelligence officer is the nephew of a real man called Baron Tugendhat. Baron Tugendhat is not a character from a 19th-century German children's book about a baron with a weird hat, the end of which gets tugged."
But critics of Lee's column have noted that many Jews have changed their names to avoid anti-semitism. Tugendhat has Jewish ancestry but his family does not appear to have Anglicised their name. In December last year he tweeted the following after anti-Jewish graffitti appeared in London alongside the number "911": "81 years ago my great aunt was one of many Jews forced to scrub the streets after a night of antisemitic barbarity in Vienna. She would have recognised the images here but the number is new. We're better than this. We know the cost. There's no excuse."
On Twitter Daniel Sugarman ("Public Affairs Officer for the @BoardofDeputies of British Jews. All my tweets are my own opinion, not those of the Board") got a large response when he tweeted: "Jewish Twitter, did your family also change their name because they were dealing with racism and felt life would be easier if it was more Anglicised? Asking due to the pretty pathetic Stewart Lee "oh, doesn't he have a funny name" Guardian article going after Tom Tugendhat."
Journalist Hadley Freeman (who writes for The Guardian) and is the author or recent book House of Glass tweeted: "Hmm, you know, I think someone recently wrote a book about exactly this...."
Journalist Nick Cohen tweeted: "When I asked my non-Jewish socialist atheist parents why they hadn't changed our name from "Cohen", they said "we assumed that after Hitler antisemitism would just disappear". I think I can date my teenage rebellion from this moment"
Writer Linda Grant tweeted: "My parents changed their name in 1948 after receiving this letter". Click here to read the threatening anti-semitic letter.
Thre were plenty of supporters of Lee too, from free-speech fans to those who realised that the column was clearly a critique of the government and not intended to be offensive to Jews. @M3J4NN wrote: "My ancestors did (though this was a several generations back on my dad's side so the judaism itself did not survive many more generations). This descendency originated from southern Europe, where this was common practice from Inquisition times, so I think it's worth noting this is by no means exclusive to 20th century manifestations of antisemitism. I don't personally find Lee's article that offensive as I take it in the context of his style of humour. But taken out of that context - and perhaps equally importantly for those who don't appreciate his humour (definitely an acquired taste) - I can absolutely see why this is so controversial. This is why Editorial teams exist, to make sure articles are not likely to be interpreted as offensive, rather than just to entertain fans of the writer in question."
Picture: Steve Ullathorne