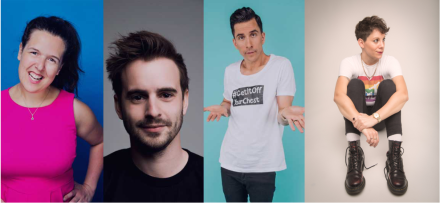 Luke Kempner will be streaming live from his home tonight along with comedians Rosie Jones, Suzi Ruffell and Russell Kane.
The event will take place on Thursday 14th May 2020 at 8pm (BST) and will be in aid of the Coppafeel breast cancer charity, which creates awareness amongst young people, with the aim to instill a new healthy habit that could one day save a life. 
*Tickets are only available until 6pm on the day of the event.*
You can purchase a link to access the show via the Rewards choosing the livestream link or alternatively joining our limited 'front row' seats where you will be given the opportunity to interact with Rosie, Russell, Suzi and Luke by asking questions or answering polls etc. 
**If you donate (rather than select a reward) and chose to remain anonymous we will be unable to send your link. Don't panic, please simply drop us an email on [email protected] with your name before 7pm on event day and we should be able to get your link out to you.**
Head to coppafeel.org to find out more about this cause and how to check your boobs/pecs.