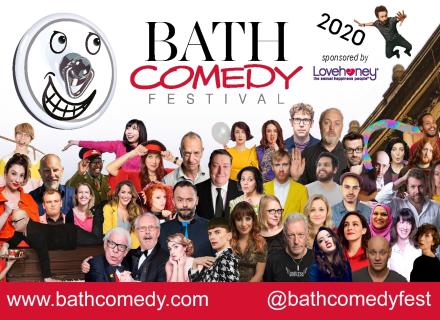 For the last 12 years Bath Comedy Festival has brought some of comedy's biggest stars to Bath, including Greg Davies, Jon Richardson, Paul Merton, Rory Bremner and Henning Wehn, alongside international stars such as Doug Stanhope and David Crowe. The festival has benefitted from the long-term support of famous patrons Arthur Smith, Barry Cryer and Helen Lederer, along with celebrities like Lorraine Chase and Christopher Biggins.
Spring 2020's Bath Comedy Festival was set to be the biggest yet, with over 300 comedians appearing at more than 170 events over 21 days. 
The Coronavirus outbreak and delay of the 2020 event has seen the festival lose money in non-refundable deposits, marketing spend, print costs and more.  
To allow the organisers to continue to bring first class comedy to Bath a GoFundMe page has been set up www.GoFundMe.com/Bath-Comedy-Festival 
Festival Director, Nick Steel, commented: "I am determined that the Festival will get through this crisis, avert disaster and resurface in as many was as possible.  Every single penny from the GoFundMe campaign will go to helping us get our house in order so that we may again present something that everyone in Bath can be proud of, and that everyone involved will enjoy.
We know that laughter is the best medicine and, in these troubled times our comedy community is helping us to see the lighter side. In loo (sic) of a physical festival, look out for our series of Bath(Time) Comedy Festival video messages, which can be viewed on our social media channels." 
So, if you like to have a laugh in Bath and want to support the return of the festival please visit www.GoFundMe.com/Bath-Comedy-Festival and give what you can.