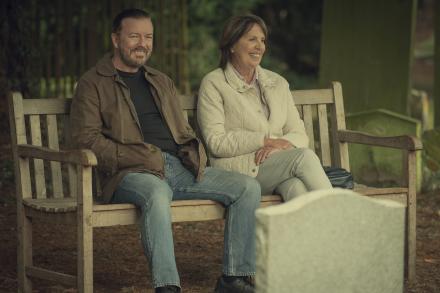 The acclaimed Ricky Gervais series After Life is to return for a third series on Netflix.
The news was announced today with creator and star Gervais tweeting: "Because so many of you watched #AfterLife2 so quickly and made it Number 1 again, the nice people at @Netflix have suggested that I get off my fat arse and do another season. This is all your fault."
While no viewing figures have been revealed the second series of the show about local reporter Tony Johnson (Gervais) struggling to get over the death of his wife Lisa (Kerry Godliman) has consistently topped the streaming site's chart. 
And Gervais has been inundated with messages from viewers thanking him for making the series, many saying how it has helped them cope with their own loss.
Comedian John Bishop tweeted: "I have to join the rest of the plaudits for @rickygervais After Life. Well acted well written, well shot and with genuine moments of beauty ...anyone not sure how good it is should try writing something as good. Congratulations to everyone involved"
Picture: Netflix