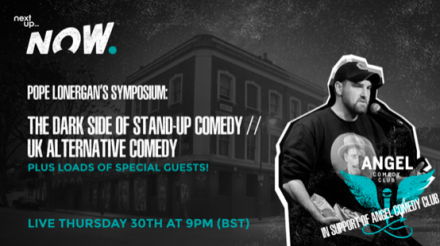 Pope Lonergan (comedian, Quaker, drug addict and creator of 'Pope's Addiction Clinic' & 'The Care Home Tour') is joined by a panel of fellow comedians, writers and academics to discuss "how stand-up comedy can transform both personal and collective tragedies by providing catharsis through humour". The streaming will take place tonight, Thursday, April 30.
They will also explore the origins of UK alternative comedy and how it has influenced the contemporary scene. 
From approximately 9 – 10pm the guests will include: Kiri Pritchard McLean, writer Andrew Hankinson, Patrice A. Oppliger and Eric Shouse (editors of The Dark Side of Comedy). 
From approximately 10:10 – 11pm the guests will include: Eddie Izzard, Arthur Smith and Oliver Double (author of Alternative Comedy: 1979 and the Reinvention of British Stand-Up).
There will also be clips from David Baddiel and other special guests.
The show will be streamed via NextUp and Angel Comedy at the link here: https://nextupcomedy.com/nextupnow/
You can donate to Angel Comedy via. Patreon: https://www.patreon.com/angelcomedy