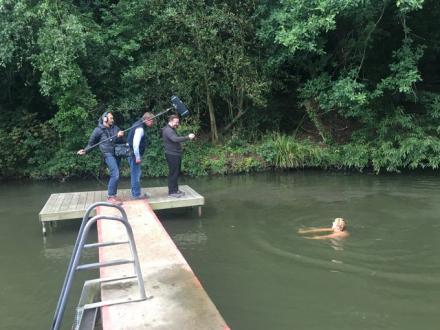 A picture of Kerry Godliman swimming has settled the mystery surrounding a scene in the second series of After Life.
Earlier this week various people of Twitter suggested that the scene, in which Ricky Gervais' character Tony wistfully watches his late wife Lisa (Kerry Godliman) swimming towards him, might have used some kind of computer trickery because her face seemed to be a different colour to her body. Some wondered if her head might have been added on in post-production. The story was even picked up in the press.
Gervais was quick to tweet that this was not the case. And he should know because he filmed it on his iPhone. He jokily imagined a production conversation that never happened: "Ricky: "We need a woman swimming in this scene." Producer: "But that's impossible. We'll have to use CGI."
Prroducer Charlie Hanson added a further explanation. "Fake News! @KerryAGodliman is a very good swimmer, and this shot was filmed in mid September in the ponds on Hampstead Heath using @rickygervais iPhone. The iPhone uses auto exposure and it was a dull day, so her face looks overexposed against the dark water. End of scoop!"
And Godliman herself joked: "It is me and my face swimming btw. It was fucking freezing. If @rickygervais could have superimposed my face on in post he kept it quiet #AfterLife2"
And now it appears that the matter has been settled by Godliman tweeting the picture seen here in which she can clearly be seen swimming while Gervais films her. "See, I'm in that water," she tweeted. Mystery solved.
The second series of After Life dropped on Netflix on April 24 and continues to receve rave reviews from critics and fans alike, making it the number one programme on the global streaming site.
Picture: Twitter