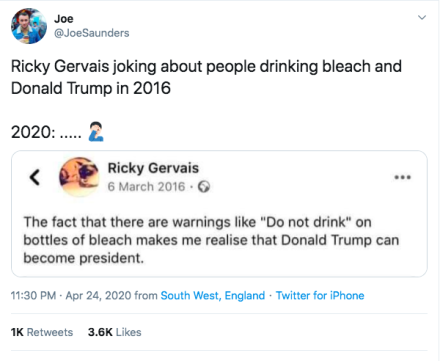 Does Ricky Gervais have psychic powers?
An old tweet from early 2016 has resurfaced which suggests that Gervais had an uncanny inkling of what might happen in the next few years.
In a tweet posted on March 6, 2016, Gervais not only guessed that Donald Trump would become President but also mentioned something that has recently been in the news in America: "The fact that there are warnings like "Do not drink" on bottles of bleach makes me realise that Donald Trump can become President."
Donald Trump won the US presidential election on November 9, 2016, nine months after this tweet.
The post has had over 22,000 retweets to date. Last week tennis legend Martina Navratilova replied to it: "Ricky - you were way ahead of the curve!!!"