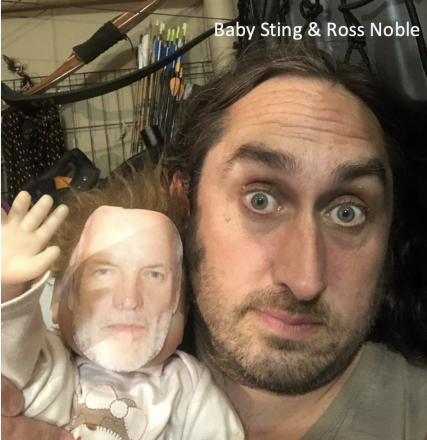 Ross Noble has launched his daily interactive Instagram livestream show Lockdown Lounge.
Every day at 11am Noble hosts his surreal interactive live show from his homemade bunker surrounded by everything he needs for a zombie apocalypse. Lockdown Lounge is part public information broadcast, variety show, chat show, game show and anything else he decides to throw into the mix. 
The show includes a series of much loved regulars including Noble's bunker buddy Baby Sting (pictured, his daughter's doll with a mask of Sting taped to it) who delivers a daily message in a bottle, chats with Bungalow Russell and loads of fans joining as live guests for virtual gameshows such as fruit ninja with real swords, crap fancy dress and pet buckaroo, which involves stacking socks on your dog.  
Ross' instagram handle is @mrrossnoble and today's Live from the Bunker is available to watch on his Instagram story.   
Of his live shows, Ross said: " I would normally be on stage but when the theatres shut, I found myself without a job. Now I go live on and interact with people around the world. I make up fun things to do and we play. Mainly it's a chance for me to visit people virtually in their homes and have a laugh. "
Noble's 2020 tour, Humournoid, has been postponed with dates being rescheduled to January and February 2021. For more information on Ross' rescheduled dates, see here.
Watch a clip from Lockdown Lounge here.