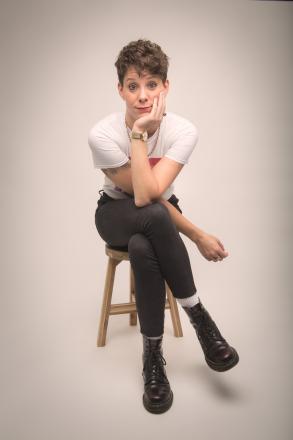 Suzi Ruffell (Live at the Apollo, The Jonathan Ross Show, The Last Leg) is to host a new podcast all about coming out, being out, and finding one's place in the world as an LGBT+ person.
Out With Suzi Ruffell celebrates individual journeys to becoming happy, featuring interviews with notable guests including Oscar winner Dustin Lance Black, Baroness Ruth Hunt (ex CEO of Stonewall), writer Emma Kennedy, and many others.   
"I wanted to create a podcast which I've long wished to exist," says Suzi. "I believe I have made something interesting, funny and ultimately hopeful, and I can't wait for people to hear the exciting conversations I have had over the past few months."
After writing, researching and recording the programme for so long, Suzi believes that it will be a source of light and positivity amidst the existing Coronavirus climate – and feels that it will be enjoyed by people of all walks of life, not just those in the LGBT+ community. In short, an interest in humanity in general is the only requirement.
Out with Suzi Ruffell is launched today, Monday, April 6.
Listen to the first episode in which Suzi meets Oscar winner Dustin Lance Black, who wrote the movie Milk then went on to form the charity that helped get marriage equality in America here.