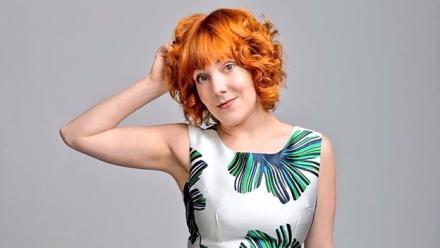 Comedian Sophie Willan has been one of stand-up's most distinctive voices in recent years. Honest, outspoken and frank about her life, she has now has drawn on her history to write this one-off pilot. If the BBC does not commission a series it must need its head examined*.
Willan plays the amiably quirky Alma Nuthall, who is trying to get her life on track but is having difficulties. She does not make the best of impressions when she goes to the job centre in Bolton and drinks directly from the watercooler. And that's just for starters. She has relationship issues too. Having just split up with her boyfriend she has to duck out of sight to avoid him in a local shop.
Flashbacks give us some backstory - Alma did not have the easiest of childhoods to say the least. Her mother was a heroin addict and "Mowgli with a mullet" had to fend for herself. It's an upbringing that has given her strength but has also made her emotionally fragile. In one heartrending scene she breaks down when she sees that her ex is starting a new life without her. The overall tone is not bleak at all though. It's more Victoria Wood than Ken Loach, but most of all very original. 
Back in the present day we also meet Alma's erratic mum Lin (Siobhan Finneran) and grandmother Joan (Lorraine Ashbourne). Her gran is a pretty formidable woman, though not as formidable as gobby butcher's assistant Leanne, played by Jayde Adams, who gets to do her stand-up set-piece and show off her amazing singing voice.
For anyone who is familiar with the star's own true-life story there are clear parallels here. The writing is great and the characters are strong. And best of all is Willan, who simply has funny bones and only needs to be shown walking down the street in her fluffy pink coat to make me smile. The pilot sets things up beautifully for a series. I can't believe the BBC will let a gem like this – or Willan – slip through their fingers**.
*They commissioned a series which starts with a rerun of this brilliant episode on Monday, Sept 13, 10pm, BBC Two.
**They didn't.