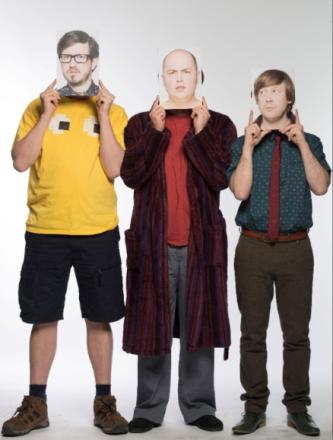 5. Question for Tom – I don't think you said "Wo, wo, wo" in the first episode of the second series. I thought that had the makings of a catchphrase – have you consciously dropped it?
Tom: Wo, wo, wo! Who said I've dropped it. The thing with a catchphrase is you shouldn't overuse it. Let people miss it, then bring it back strong. 
Ben: I didn't even know it was a catchphrase.
Tom: Wo, wo, wo. You didn't know it was my catchphrase?
Matthew: Please stop saying wo, wo, wo.
Tom: Wo, wo, wo. Don't steal my catchphrase.
6. The first episode has a World Cup theme which obviously ties in nicely with the World Cup starting in June. Where did the idea come from – what would have happened if programme went out in autumn? 
Tom: We knew it was going out in June. Which is why we started with a World Cup special rather than a Christmas one. 
Matthew: We wanted to do an inverted Likely Lads episode. Instead of trying to miss the game, we were trying to find a place to watch it.
Ben: Unfortunately, the place we found was Glasgow.
Tom: Yep, kitting out a rough Gorbals pub in St George flags was one of the more dangerous things we had to do for the show.
7. Do you have any plans to perform live in the future - can you see yourselves doing Badults onstage? Would you like to?
Matthew: We're still gigging all the time but Badults is so all consuming that we haven't had time to write a new tour show or to do Edinburgh.
Tom: It would be fun to do Badults live. Let's see how this series goes.
Ben: We're doing our podcast, Flatshare Slamdown, and some gigs and festival shows over the summer so we are keeping ourselves busy.
8. You've lost Emer Kenny and gained Katherine Ryan? How did that come about?
Matthew: Unfortunately Emer wasn't available for the filming dates. But we were very lucky to get Katherine. And she's playing a very different character so it's not like we simply replaced Emer.
Tom: Katherine is great. She's such a funny and distinct performer. And because she's a comic she really knew how to make the gags work.
Ben: It was fun to write a character who was a worse person than the three of us. 
9. Older people like me inevitably end up comparing Badults to the Young Ones – the chaos, the comic anarchy, the childishness, the flashbacks/dream sequences – was that an influence or are you too young to remember it? In what way do you feel Badults is different. Do you think comedy works in cycles so that ideas/themes do eventually come around again?
Tom: We love The Young Ones but the show that really inspired us was Bottom. A big silly show that feels like a human cartoon.
Ben: Aggressive Gary from episode one is played by Steven O'Donnell who plays Spudgun in Bottom.
Matthew: I think the characters in Badults are less mean. We aren't constantly hitting each other over the heads with frying pans. It's warmer. Someone recently said it reminded them of Sykes. I think The Young Ones felt very modern, Badults is probably a bit old fashioned. I'm not sure if we're part of a cycle; this is just the sort of show that we would want to watch. It's like our live show, we try and make it big and silly but also sweet and life-affirming. 
Tom: Like I said, "epic".
Matthew: I didn't say epic.
Tom: No, but I did. Epic.
10. Can each of you tell me your favourite moments in the upcoming series? 
Tom: I really liked recording a World Cup song. I genuinely think we'll be hearing it on the terraces soon. Along with my catchphrase: Wo, wo, wo.
Ben: In episode 5 I got to dress like Evel Knievel and bounce on a trampoline. So I can cross that off my bucket list.
Matthew: Any bit where I'm not running.
Badults is on BBC3 on Mondays from June 2 at 10pm. 
Pages