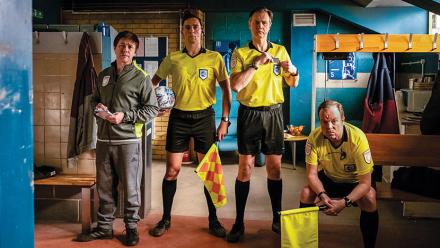 I was lucky enough to see the first episode in the fifth series of Inside No. 9 at a special screening at the BFI in London last month. I didn't take any notes for a few reasons. Firstly I was too glued to the screen to scribble into my notepad. Secondly I thought that there is not much point noting down details because I won't be able to write them in a preview for fear of giving too much away. And anyway, The Referee's A W***er, which kicks off the new run of the acclaimed anthology series in style, is so memorable I didn't need to write anything down to recall it.
Needless to say then, it is almost impossible to preview or even review for fear of spoilers. But here's the basics. The scene is the match officials changing room on the day of a crucial decider. The main referee Martin is played by David Morrissey and it is his last game before retiring. Also on his team are Ralf Little, Reece Shearsmith and Steve Pemberton. Little is Phil, the vain, ambitious rising star hoping to be talent spotted for The World Cup, Shearsmith is Brendan, the wannabe who was once involved in a European game and can't stop reminding everyone. And Pemberton is Oggy, the journeyman family man.
And boy, does the thirty-minute opener, which I guess might become known as The Football Episode, cram a lot in as we see these characters interact before, during and after the match and touch on various hot topics that regularly circulate around the beautiful game. It is so well-written and cannily constructed by Shearsmith and Pemberton that you definitely don't have to be a Match of the Day obsessive or understand the offside rule to appreciate what is going on. It's about human emotions, not football. 
The narrative, directed by Matt Lipsey, boasts a tangible sense of tension and claustrophobia. Morrissey is brilliant. There are laughs, particularly when furry team mascot played by Steve Speirs (currently also in The Tuckers) is around, but the tone is also dramatic. 
And yet cleverly we don't really see any soccer action, although we certainly hear about it. Only two footballers appear, the more prominent one played by Dipo Ola. Instead we home in on the man with the whistle with a pea in it (if they still use those). Prepare to be suitably blown away. Let's just say they haven't dropped the ball.
Inside No 9, Mondays from February 3, 10pm, BBC2.
Picture: BBC/Sophie Mutevilian