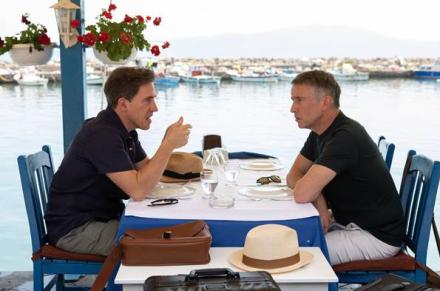 The transmission date has been confirmed for latest gastronomical jaunt from Steve Coogan and Rob Brydon. The Trip To Greece will start on Sky One on March 3 at 10pm.
The series follows the duo's previous hits The Trip, The Trip To Italy and The Trip To Spain.
In The Trip to Greece the duo lock horns over tragedy, comedy, myth and history. All while dining on cuisine traditional to beautiful Greek hot spots including Assos, Kavala, Stagira, Athens, Epidaurus, Hydra and Plyos among many, many others.
Sky Studios' Director of Comedy, Jon Mountague, says: "What a joy to go island hopping with the incomparable Steve and Rob. Greece is the birthplace of democracy but more importantly the birthplace of Michael Winterbottom's latest vision, which we can't wait to share with our customers. Yamas!"
Steve Coogan won a British Academy Television Award for Best Male Comedy Performance for The Trip in 2011 and Rob Brydon was nominated for the same award for The Trip To Spain in 2018.
The first and second series went out on BBC2 in the UK. The third series went out on Sky Atlantic.
Michael Winterbottom is once again on board as the director with Josh Hyams and Melissa Parmenter producing. Steve Coogan is also due to star alongside David Mitchell in a satirical film about the super-rich, entitled Greed, also directed by Michael Winterbottom and due for UK release in February.
Rob Brydon is setting out on a tour from February 2020 in which he will be mixing music with comedy. Details and dates here.