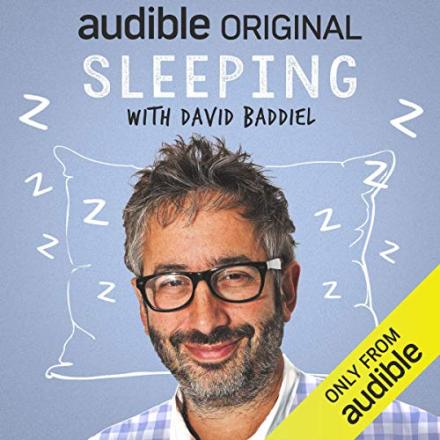 Audible is to launch a new podcast – Sleeping With….David Baddiel. The critically-acclaimed author, Olivier nominee and 55-year-long insomniac joins world-renowned sleep neurologist Dr Guy Leschziner for a dynamic exploration of sleep. Packed with simple tips and detailed explanations on how sleep can reform your health and productivity, this informative podcast reveals the endless health benefits of revolutionising your sleep pattern.
Baddiel's career spans screenwriting, children's book publishing, television presenting and everything in-between. Perhaps most famous for Fantasy Football, Baddiel & Skinner Unplanned and his number one single Three Lions, Baddiel wrote The Infidel which starred Omid Djalili, Richard Schiff, Matt Lucas and Miranda Hart. Baddiel has published several children's books, which have sold over one million copies worldwide including The Parent Agency (2015), The Person Controller (2016), Animalcolm (2016), Birthday Boy (2018) and Head Kid (2018). Most recently he premiered stand-up show My Family: Not the Sitcom, at London's Menier Chocolate Factory to a wealth of glowing reviews (Evening Standard: "a rare production that boasts side-splitting laughs and also moves people to tears," Guardian: "compelling to watch both for its unvarnished truth and complicated affection").
Estimates suggest that around 30 million Brits and around 70 million Americans suffer with unsatisfactory sleep. To address a nationwide problem, Dr Leschziner shepherds insomniac comedian David Baddiel through six episodes of sleep study in an attempt to improve Baddiel's nocturnal habits, with practical tips and advice for how listeners can do the same. While sleep may sometimes seem like a luxury, this in-depth fusion of cutting-edge science and self-help guidance will demonstrate a healthy attitude to sleep can increase your lifespan, improve mental well-being, decreasing the risk of heart disease, cancer and Alzheimer's. The series incorporates interviews, reveals secrets about dreams and answers the most googled questions on sleep, offering you a path to improve your health and wellbeing by uncovering the science behind why and how we sleep. 
David Baddiel says: "One of my hopes for the series, and the reason I've invited you into my bedroom, is that I'm hoping to better understand our relationship with sleep. I am an insomniac. I first remember lying awake in bed, not able to sleep at about 8 years old, and ever since I've become frustrated and fascinated in equal measure by my pursuit of a good night's sleep. I've spent many of my MANY waking hours thinking about sleep, about why I can't do it well, and also about what it is in general, and in this podcast I'm hoping to finally understand what it is that keeps me from falling asleep and then staying asleep."
"It's always been a complicated part of my life and to be honest, I don't know if this journey has brought me closer to beating my insomnia, but it has helped me understand it better." 
Sleeping With…David Baddiel is available to download exclusively at www.audible.co.uk/podcasts (free for Audible members, free with Audible's 30-day trial).