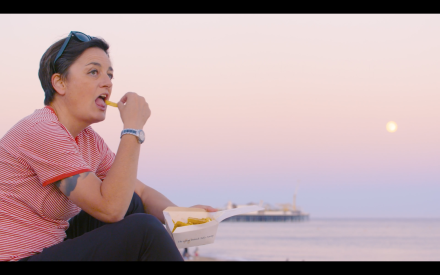 Zoe Lyons is to star in a self-penned Radio 4 comedy.
In No Gods No Golf Lyons plays 'Zoe', who is a single, gay, 40-something low-level criminal defence lawyer. Without a religion, kids to look after, or golf club membership, she's often woken with the nagging thought, 'What's this all about?'
She has reached a point in her career where, despite being financially secure, she realises her job will never deliver any of the fulfilment she thought it would and she's beginning to feel trapped in a prison of her own making.
She shares her flat with her nephew, 20-something Grayson, a chef whose life revolves around banging on about the latest street food trends and pop up restaurants.
Her circle of friends are an eclectic mix of Brighton characters. Many of them pursuing freelance creative careers from cupcake making to dog fashion accessories. Her friends envy her job security and she in turn envies their apparent freedom. Zoe's oldest pal Freddie, is a no-nonsense, cigar-smoking upper-class lesbian antique dealer in her late forties; always on hand to offer Zoe extraordinarily inappropriate advice and life-lessons. 
In Zoe's law practice, enthusiastic 20-something Alexa hopes she will not end up like Zoe, who in turn hopes she won't end up like 50-something Georgina - always late, frequently pissed and a serial dater. 
In this episode, Zoe is worried she's being stalked by a stalker she defended on a stalking charge and decides to invest in her friend's new business.
Also starring Angela Barnes, Terry Alderton, Steve Speirs, Jon Pointing, Jenny Bede, Sue Vincent, Selina Griffiths and Michael Fabbri.
Producer/Director Barry Castagnola. Executive Producer Mario Stylianides.
No Gods No Golf airs on Radio 4 on Friday 24th January at 11.30am.