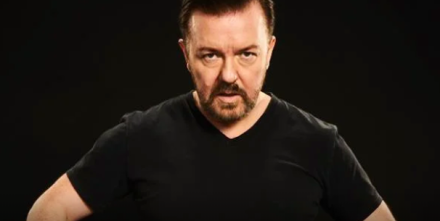 Ricky Gervais has announced more live dates for his new show SuperNature including a West End run.
He confirmed his plans during his appearance on The Graham Norton Show on BBC One on Friday night. The London shows are on October 14, 15, 16 & 17, 2020 at The Palladium and go on sale on Friday, November 29. The stand-up show will be filmed for Netflix. (Update 29/11 - more dates added - see below). Update 2/12 - Wembley Arena date added on November 20. Tickets for Wembley go on sale this Friday morning, 6/12 at 10am.
Shows in Oslo, Stockholm, Barcelona, Vienna, Copenhagen and Zurich will also go on sale on Friday.
Gervais talked on the show about his recent experiences of performing around the world: "I played Berlin for the first time last year and thought 'can I do my Hitler stuff?' And they loved it...They didn't like him either." 
He also talked about his plans for hosting the Golden Globes for the fifth time in 2020.
The 58-year-old comedian said that he tries to make his speeches a "spectator sport". He added that he thinks more about the viewers than the celebrities who are present. "The first time I did it I thought, 'Shall I do it for the 200 egos in the room or for the 200 million watching at home?'"
His Golden Globes routines might be famously edgy but he says that they are checked by lawyers before he says them onstage. He knows what he is doing though and has never had to change anything: "I've never had a complaint upheld."
Gervais has recently finished filming and editing the second series of his acclaimed Netflix show After Life and is due to receive a Performance of the Year Award for his starring role in it at the Rose d'Or awards next month.
Full Ricky Gervais dates here.
Update 29/11 - extra Palladium dates now added from October 7 - 10  & Oct 21 - 24.
8th December 2019 – Berlin, Verti Music Hall
17th January 2020 – Zurich, Samsung Hall
8th February 2020 – Oslo, Spektrum
15th February 2020 – Barcelona, Auditori Forum – CCIB
28th February 2020 – Stockholm, Ericsson Globe
13th March 2020 – Vienna, Wiener Stadthalle
18th April 2020 – Copenhagen, Royal Arena
14th October 2020 – London, Palladium
15th October 2020 – London, Palladium
16th October 2020 – London, Palladium
17th October 2020 – London, Palladium