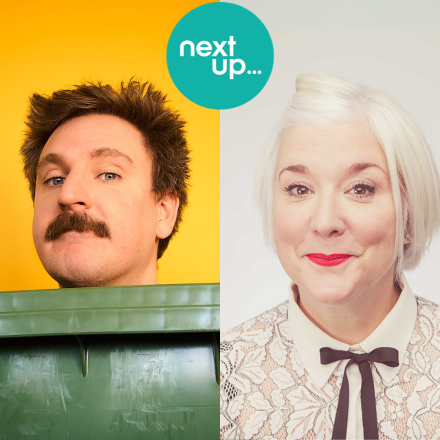 NextUp​ - the subscription video-on-demand platform specialising exclusively in stand-up comedy specials, have annou​nced they are filming five specials (produced by NextUp) in November.
NextUp have filmed Britain's Got Talent star Lost Voice Guy, as well as comedians Ali Brice and Lou Conran (filmed live on the 10th November at The Bill Murray) and Tom Parry and Michael Legge (filmed live on the 17th November also at The Bill Murray).
Comedian Lee Ridley, aka Lost Voice Guy, is the first standup comedian in Britain to use a communication aid in his routines. He rose to fame after winning the 12th series of Britain's Got Talent in June 2018.
Following their busiest Edinburgh Festival yet, (​the team doubled the number of shows scouted and filmed) ​the NextUp team have cherry picked some of their favourite performances to film exclusively for the platform.
Ali Brice's 2019 Fringe show ​Bin Wondering ​is a surreal yet honestly reflective hour of masterful comedy. Having spent time in a wheelie bin (for warmth, obviously), Ali's mind has been wandering and wondering.
Brice has tried to throw a lot away – including himself, and all he knows is that he doesn't want to be in a bin again. Ever. But how's he coping with his second chance at life?
Lou Conran's ​At Least I'm Not Dog Poo Darren is a​ thoughtfully funny show is about presumption, misunderstandings and misgivings. And - as you might have guessed from the name - a man called Darren.
Fresh from his Best Newcomer nomination in 2015, Parry is back with a brand-new hour celebrating life, love and going tops off! Join the largest (girth, height) third of the legendary sketch team Pappy's as he sweats, shouts and explains everything he loves about a wedding. There will be stuff, there will be nonsense, there might even be a bit of karaoke. Important: this is not a musical show.
Labelled 'The angriest man in the UK' by Chortle, Fringe veteran Michael Legge's delights with his signature sarcastic delivery in his 2019 show ​The Idiot. E​ xpect big laughs and rant-filled surrealism.
NextUp co-founder Sarah Henley says; ​"We are really excited to film five awesome specials in November. Following our Grapevine Bursary earlier this year, we have been working hard to increase diversity across the platform and we're really chuffed to have Lee's show join the ranks. He is a unique talent and we are really excited to be producing the show along with 4 other amazing acts over the next few weeks. They are four of the absolute best shows we scouted at the Fringe this summer, and to be able to film these gems for our members is a real treat."
NextUp champions the most exciting names in stand-up comedy, filming and showcasing their work worldwide via their 5-star rated mobile and TV apps. Comedians include: Max & Ivan, Jordan Brookes, Tiff Stevenson, Jonathan Pie, Hal Cruttenden, Paul Sinha, Bill Hicks, Bec Hill, Lou Sanders, Eleanor Morton, Tommy Tiernan, Stuart Laws, Simon Munnery, Daliso Chaponda, Tiernan Douieb, Tom Ward and many more​ (full list here)​.
NextUp is available on iOS, Android, web, Fire TV, Apple TV, Chromecast, Airplay, Roku and Amazon Channels. NextUp costs £4.99 per month with a 7 day free trial.