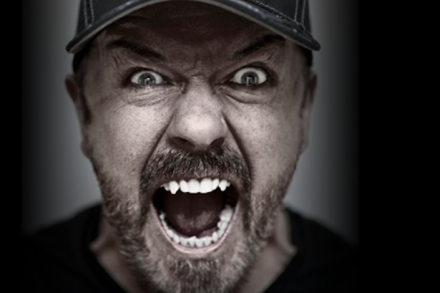 Ricky Gervais is to host the Golden Globes again in 2020.
This will be a record fifth time that he has hosted them. He last hosted the Golden Globes in 2016.
The show will take place on Sunday, January 5 at The Beverly Hilton in Beverly Hills, California.
In a statement he said: "Once again, they've made me an offer I can't refuse. But this is the very last time I'm doing this, which could make for a fun evening." 
The star of recent critically acclaimed Netflix hit After Life has become known for his celebrity put-downs at the annual awards ceremony.
In 2016 he said of Mel Gibson: "I want to say something nice about Mel before he comes out so...I'd rather have a drink with him in his hotel room tonight than with Bill Cosby."
And he introduced Johnny Depp by calling him: "the man who will wear anything Tim Burton tells him to," 
Gervais is currently touring Europe with his latest live show SuperNature and is also editing the second series of After Life.
The Golden Globe nominations will be announced on Monday, December 9
Picture: Rich Hardcastle