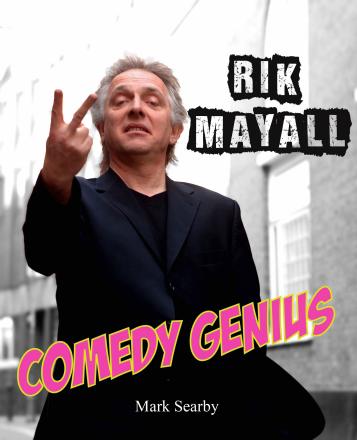 From the author of Al Pacino: The Movies Behind The Man, Mark Searby releases Rik Mayall: Comedy Genius.
Delving into the rude, serious, anarchic and hilarious, Searby highlights Mayall's spectrum of work – not the rumours or an attempt to uncover the deeply private life he led but the more intricate moments that were twisted into creations to make people laugh and subsequently woven in to the fabric of British culture and comic legacy.
Narrated by Searby, over 30 exclusive interviews have been lovingly, laughingly and carefully sought from those that stood closest to him over his working years including the likes of Alexei Sayle (The Young Ones), Nigel Planer (The Young Ones), Ate de Jong (Drop Dead Fred), Christopher Ryan (Bottom), Helen Lederer (Bottom), Gwyneth Powell (Man Down), Laurence Marks & Maurice Gran (The New Statesman) and many more, providing the inner-most workings of Mayall and all of the emotions that working next to him brought with it, namely laughter.
Rik Mayall: Comedy Genius is a deep dive into everything from his most notable work to his lesser-known, yet equally as fascinating moments.
With a career born from frustrations, opinions and political strains of the working class in the 1980s, Mayall and a motley crew of young fresh talent led the uprising of alternative comedy. Taking a lead from Punk music, they took no prisoners. It was politically incorrect, anarchic and stuck two fingers up to the establishment and furthermore it stood for something. In its new form, Mayall and his compadres had made comedy in to a vessel to speak freely and represent the feelings of a fresh, passionate and raw new generation, something that has since been remixed and reworked over the following three decades. As Mayall evolved over the years, his acting, his intellect, his manic, intriguing character and his genius became a thing of interest, inspiration and celebration.
To be published January 24, 2020. Pre-order here