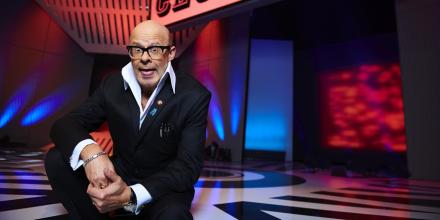 After a few outings on BBC Harry Hill broke big with his own Channel 4 series in 1997, complete with cat puppet, badgers and a winning mix of surrealism and vaudeville. Fom there he found mainstream fame on ITV1 with TV Burp. And now he is back on C4. To paraphrase an old showbiz saying, they say you play C4 twice, once on the way up, once on the way down. It's good to have Harry Hill back. (except, of course, he's certainly not on the way down). 
Harry Hill's Clubnite is a brand-new late-night series, not so much an answer to Live at the Apollo as a varety show that draws heavily on the host's trademark lunacy. He doesn't just bookend the show and introduce the acts, he also interacts wth them and chats with them after their set. I'm not sure how successful this segment is, but his ukele duet with Spencer Jones was a thing of absurdist joy.
Joining Harry in the first episode was stand-up Rosie Jones, who is rapidly becoming a familiar TV face, and Spencer 'no relation' Jones, who, with his crazy props, visual gags and offbeat musical ideas is, in some ways, the nearest thing the current comedy circuit has to Hill. He was easily the stand-out act of the opening show, but there were other good turns too.
Bridget Christie talked about being a mum and part of the metropolitan liberal elite with a herb garden, sketch duo EGG delivered some inventive sketches that might have worked better in a club and spoof actor Anna Mann, alias character comedian/real-life actor Colin Hoult, stormed it with a series of waspish theatrical anecdotes and some memorable interplay with the audience.
Other acts confirmed for the series include Mawaan Rizwan, Rachel Parris, Suzi Ruffell, Huge Davies, Lucy Pearman, Eddie Kadi and Tim Renkow. This feels very much like a successsful blend of showcase for newer acts and showcase for Hill's timeless nuttiness. With its running gags, badly sung pop covers, dancing squid and general air of idiocy this is C4's best late night comedy show since Vic and Bob's original Big Night Out.
Harry Hill's Clubnite, Fridays, C4, 11.05pm and on All4.