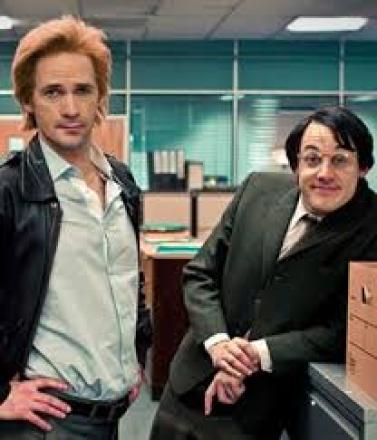 Well, of course I don't hate sketch comedy. But, heck, it's a crowded market out there, I've got to get you to click on the link somehow. So now I've got your attention I'll explain and expand. Sketch comedy is probably my least favourite form of comedy. When I go to gigs I prefer stand-up. When I'm watching TV I prefer a sitcom. I'll frequently watch sketches on YouTube, but the quality is so inconsistent my laptop is invariably in danger of being lobbed out of the window before you can say "buffering". Sketch comedy often feels like the last refuge of the crap out-of-work actor or the aspiring stand-up who doesn't have the confidence to go solo. 
Michael Palin recently said that a lot of Monty Python was crap. And that's the problem. Even the classic shows struggle to maintain a strong strike rate. Palin was being particularly brutal. The usual put-down of sketch shows is that by their very nature they are hit-and-miss. For every Cheese Shop sketch there is something so cheesy we've forgotten about it. It is a problem inherent in the form and, as well as the imminent return of the Pythons, there is a lot of sketch comedy around at the moment to be hit-and-miss*.
Oddball duo Cardinal Burns return to TV tonight with their second series, having been 'promoted' from E4 to C4. I've seen the first two episodes and while there is lots to like they also conform to the h&m comedy thesis. Some of their conceits are both brilliantly conceived and exquisitely performed. You can't believe their Office Flirts haven't been done before by someone else they are so fully formed and instantly familiar. Likewise their Banksy-as-a-suburbanite is pure genius. There is enough high quality humour to keep you watching, but while it is as good as sketch shows get it is still touch and go at times. Dodgy accents, fart gags and did they have to name their Turkish cabbies Hashtag and Bukake? I guess that's what you call in your face comedy.
The trouble is one is forced to make a definitive value judgement every few minutes with sketch comedy, or "broken comedy" as some call it. Was that sketch good or a stinker? What about the next one? And the next? With a sitcom one only really makes a judgement once every thirty minutes. I get tense enough watching sketch shows, god knows what it is like making them. Toughest job in the world as The Fast Show may have said. There are other upcoming opportunities to play jury too. Radio 4's Sketchorama returns in June, with Thom Tuck as host and acts including The Real MacGuffins, Mixed Doubles, Bob & Jim, Four Screws Loose, The Jest, Birthday Girls, Casual Violence, Croft & Pearce, Beasts, The Colour Ham, Lead Pencil and Foil, Arms & Hog. 
Sketch comedy on the radio is probably even tougher to get right than on TV. Listeners are more easily distracted and it is harder than ever to convey personality and nuance quickly without visuals. I heard a lot of the last series of Sketchorama in the car while driving to gigs and my overriding memory was of middle class people putting on funny voices and/or shouting. It says something about the quality of the comedy when even a five-minute spot outstays its welcome. But presumably others liked enough of it or it wouldn't be coming back. 
There have, of course been great TV sketch shows. The Fast Show's smash-and-grab style worked brilliantly, as did Harry Enfield's living comic strip format and Big Train's off-kilter pop culture comedy. BBC4's Cowards with Tim Key is a lost gem. But for me if I have to watch sketch comedy I prefer to watch it live. Pappy's, of course, lead the field, but maybe there is hope for others yet. The London Sketchfest runs at the Backyard Bar from this Thursday to Sunday and features a mix of new and established acts, from aforementioned Foster's Award nominees Pappy's and Max & Ivan to The Pin. Double act The Pin are particularly promising. Who knows, maybe in a few years they will get their own TV sketch show and I can describe them as hit and miss too. 
Cardinal Burns is on C4 on Wednesdays at 10.30pm. 
*I'm indebted to BBC Radio producer Ed Morrish for reminding me of this sketch, which is very much a hit.