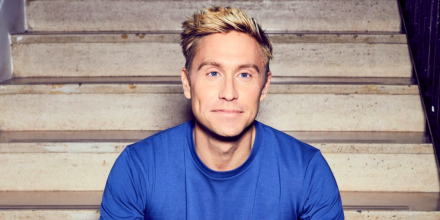 Russell Howard returns to our screens to offer his perspective on news and current affairs with a third series of The Russell Howard Hour on Thursday 7th November at 10pm on Sky One and streaming service NOW TV. The inaugural series of the Sky original and Avalon production was the most successful new entertainment series to launch on the channel since 2010 and the show has since received over 300 million views across social media as a result of multiple segments going viral such as: a passionate backing of the British police (10 million views),  a dive in to our housing crisis (9 million views), an insight in to the impact of social media on teenage girls (7 million views) and a dissection of the porn industry (6 million views).
Filmed in front of a studio audience, Russell will once again conduct in-depth wider social interviews with an array of interesting people after having guests including Ed Sheeran, John Oliver, Alesha Dixon, Chris O'Dowd, Naomi Klein, Jamie Oliver, Louis Theroux, Diane Abbott, Greg Davies, Fiona Bruce, Juan Mata, Sarah Millican, Michelle Wolf, Rob Delaney, Will Poulter, Stacey Dooley, Jon Ronson, Richard Curtis, Stephen Merchant, New York Times journalist and Isis infiltrator Rukmini Callimachi, anti-knife crime campaigner and former champion boxer Mark Prince and KKK converter Daryl Davis on in previous series.
The series will also include the return of Playground Politics, where Russell talks to children about international issues at schools around the world to get a junior perspective on global politics and Good Deeds, championing the nation's spirit of generosity. For the first time, in a new strand titled Playdate, Russell will hang out and play with guests throughout wide-ranging activities including Hot Tugging with Queer Eye's Tan France, urban beekeeping with Aisling Bea, flyboarding with Jon Richardson and canal boating with Josh Widdicombe.
The Russell Howard Hour is available to view across the globe, broadcasting with Sky in the UK and Ireland and Foxtel in Australia and TVNZ's Duke in New Zealand close to UK transmission.  Clips and previous episodes are available to watch elsewhere worldwide on Russell's YouTube channel which has over 915,000 worldwide subscribers.
Russell is one of the UK's most successful comedians; with over 3.4 million Facebook fans, he has a huge social media presence and more followers on this platform than any other British comedian. Russell has recently returned to the live stage with his third and largest world tour to date, Respite. He began his trip with a nationwide arena tour this Autumn and will return to the UK next year with multiple dates at London's Eventim Apollo and Bristol's Hippodrome. Breaking the record for the biggest ever stand-up show in China on his last tour, he returns to play Shanghai and Beijing in 2020. Outside of Asia, Russell will perform in Africa, North America, Europe and Australasia, visiting 5 continents, 24 countries and 52 cities. The success of the international 2017 tour led to a global release of Netflix Special entitled Recalibrate.
The Russell Howard Hour is a Sky original production produced by Avalon.  The commissioning editor at Sky is Shirley Jones, whilst Executive Producers are Richard Allen-Turner, James Taylor and Jon Thoday for Avalon.  The show is directed by Peter Orton and series produced by Robyn O'Brien.