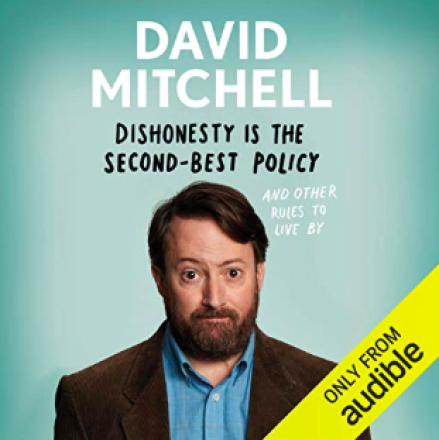 Audible, the world's leading provider of spoken-word entertainment, has secured worldwide English language audio rights to David Mitchell's new book Dishonesty Is The Second-Best Policy: And Other Rules To Live By, narrated by Mitchell himself.
Audible will produce and record the exclusive audio version in its Grammy and Audie award-winning London studios. It will be published in audio on 7th November 2019, alongside print and e-book formats, published by Faber, on the same date. It is now available to pre-order in all formats. 
Dishonesty Is The Second-Best Policy: And Other Rules To Live By is an eclectic collection of David Mitchell's attempts to make light of all the darkness since his bestseller Thinking About It Only Makes It Worse. Scampi, politics, the Olympics, terrorism, exercise, rude street names, inheritance tax, salad cream, proportional representation and farts are all touched upon by Mitchell's unremitting laser of chit-chat, as he negotiates a path between the commercialisation of Christmas and the true spirit of Halloween.
David Mitchell said: "I am slightly freaked out that the sound of me quietly reading my own book to myself was picked up by one of Audible's secret microphones, but they say they'll cut me in on any subsequent revenue so I guess that's fine." 
Harriet Poland, Commissioning Editor at Audible, said: "David Mitchell has become one of the most loved voices in the country, and we're delighted to publish the audio edition of his new collection of writing. Dishonesty is the Second-Best Policy is full of the character, wit and warmth audiences have come to expect from David and it's been a lot of fun working with the brilliant team at Faber to launch this wonderful book." 
Dishonesty Is The Second-Best Policy: And Other Rules To Live By joins a host of best-in-class, first-person narrated celebrity auto-biographies released by Audible in recent months. Other highlights include How Not To Be A Boy by Robert Webb, Brutally Honest by Melanie Brown and Little Me by Matt Lucas.