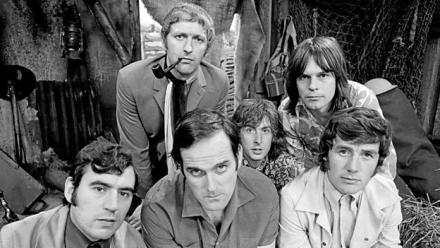 Monty Python's Flying Circus first aired on 5 October 1969 on BBC One and went on to run for four series.
The images from the Monty Python Archive, lovingly and painstakingly restored by the BBC Photo Archive team and held in the BBC Photo Archive, include behind-the-scenes photos of the group, made up of John Cleese, Terry Gilliam, Eric Idle, Terry Jones, Michael Palin, and the late Graham Chapman. Dated between 1969 and 1974, the rarely seen images show them on set filming sketches including The Ministry of Silly Walks, And Now for Something Completely Different and The Attila the Hun Show.
The archive release also includes a 1969 audience research report revealing viewers' initial reaction to the series and its "delicious sense of the ridiculous", as well as a memo from the then Head of Comedy requesting the "peculiar titles" be changed.
Shane Allen, BBC Controller Comedy Commissioning, says: "These archives are comedy history Holy Grails! They highlight that long-standing BBC reputation of being the vital place that champions pioneering new talents. The Pythons tore up the rule book of comedy grammar, conventions and traditions, but thankfully the support for creative freedom won the day and has certainly paid off in the long run as audiences continue to celebrate and revere their enormous impact on comedy."
BBC History has also collaborated with the Ministry of Stories to introduce children aged 11-14 to Monty Python and released a teaching resource to support young people across the country to write their own comedy sketches.
As part of the project, pupils from Swanlea School, in Whitechapel, East London, got to grips with Hell's Grannies and The Ministry of Silly Walks to create new comedy inspired by Monty Python. BBC History then produced their final sketches, performed by professional actors and under the guidance of writer/actress Gem Ahmet.
Robert Seatter, Head of BBC History, says: "When Monty Python's Flying Circus began in 1969 it radically changed the face of TV comedy. By introducing these famous Python sketches to today's young people we want to change it all over again - with the same spirit of surreal invention!"
Find out more about BBC History's Monty Python archives here.
The material in the collection should be viewed in the context and with the understanding that it reflects the attitudes and standards of its own era - not those of today.
Pictured above: Monty Python's Flying Circus: S2. Picture shows The Monty Python team who conceive, write and perform the series, (left-right, back row) Graham Chapman, Eric Idle and Terry Gilliam (left to right, front row) Terry Jones, John Cleese and Michael Palin. The first programme of a new series of 'Monty Python's Flying Circus' was screened on BBC One on Tuesday 15 September 1970. Photograph date: 25/06/1970
Credit: (c) Python (Monty) Pictures Limited