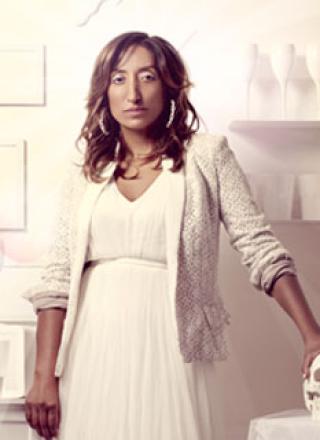 Shazia Mirza is going out on tour with her new show Coconut!, reflecting on the art of survival in a world of crocodiles, coconuts, solitary confinement and alpha males.
Following the success of her last solo shows, 'With Love From St. Tropez', a riot of Brexit, buquas and butt-plugs through the lens of the periodic table, and 'The Kardashians Made Me Do It', a searing and urgent exploration of life, love and Jihadi brides, Shazia is now taking on the burning issues of our time. What's going on? Why is everyone fighting? Why does everyone hate each other? Who the hell is Alexa? And why are there no women left with real eyebrows? Women are in fashion now but the eyebrows come and go? And why do all the right-wing papers keep calling her for answers every time there is a paedophile with the same skin colour as her? Can we really educate people? Can we drag anyone forward against their will?
Recently seen back to absolute basics in Channel 4's Celebrity Island with Bear Grylls, taking a speedy turn (2.07 seconds to be exact) in BBC2's Top Gear and temporarily enjoying the high life in Channel 4's Travel Man – 48 Hours In… Côte d'Azur, Shazia has also guested on ITV's Jonathan Ross and Loose Women, BBC1's The One Show, and is a regular panellist on Channel 5's The Wright Stuff. Other TV credits include Have I Got News For You (BBC), F*** Off, I'm a Hairy Woman (BBC), Celebrities v Child Genius' Christmas Special 2018 (Channel 4), Celebs In Solitary (Channel 5), NBC's Last Comic Standing, Beautiful People (BBC2), The World Stands Up (Paramount Comedy) and The Late Late Show (RTE). She has also appeared on BBC Radio 2's Graham Norton and Steve Wright, Radio 4's The Now Show and Saturday Live, and her Pause For Thoughts can often been heard on Radio 2's Vanessa Feltz Show.  
In 2008 she was listed in The Observer as one of the 50 funniest acts in British comedy, won 'Columnist of the Year' at the prestigious PPA Awards for her fortnightly column in The New Statesman and won The GG2 Young Achiever of the Year Award. She has performed all over the world, selling out performances from Singapore to Kosovo, and regularly writes for various publications, including The Guardian, The Financial Times and New Internationalist.
SHAZIA MIRZA TOUR DATES
FEBRUARY
Sat 29th STRATFORD, Playhouse 01789 333990
MARCH
Sat 7th LONDON, WOW Festival 020 3879 9555
Sat 14th BRIDGNORTH, Theatre on the Steps 01746 766477
Sat 21stDARTMOUTH, The Flavel 01803 839530
Thurs 26th NORWICH, Arts Centre 01603 660352
APRIL
Fri 3rd  SOUTHAMPTON, Hanger Farm Arts Ctr023 8066 7274    * (Date moved from 13/3)
Sat 11th COLCHESTER, Arts Centre 01206 500900
JUNE
Thurs 4th CAMBRIDGE, Junction 01223 511 51
Sat 6th OXFORD, Old Fire Station 01865 263980
Mon 8th LONDON, Soho Theatre 0207 4780100
Tue 9th LONDON, Soho Theatre 0207 4780100
Wed 10th LONDON, Soho Theatre 0207 4780100
Thu 11th LONDON, Soho Theatre 0207 4780100
Fri 12th LONDON, Soho Theatre 0207 4780100
Sat 13th LONDON, Soho Theatre 0207 4780100
Sat 13th LONDON, Soho Theatre 0207 4780100
Thurs 18th LEAMINGTON SPA, The Royal Spa 01926 334418 
Fri 19th TUNBRIDGE WELLS, Trinity Theatre 01892 678678
Thurs 25th BRIGHTON, Komedia 01273647100
Fri 26th DONCASTER, Cast 01302 303 959
JULY
Fri 3rdBANBURY, Mill Arts Centre 01295 279002
Sat 11th BIRMINGHAM, Old Rep 0121 359 9445
Sun 12th NOTTINGHAM, Glee 01892 678678