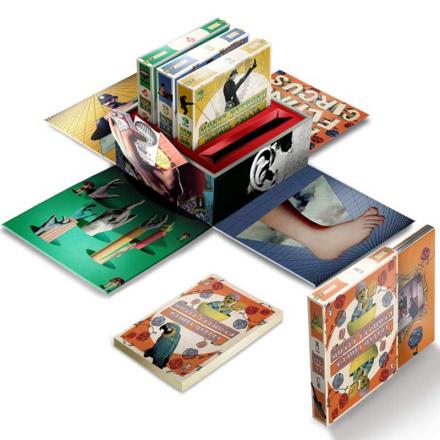 Following on from the announcement at the end of July celebrating the release of the newly restored Monty Python's Flying Circus Norwegian Blu-ray Edition the release date has had to be delayed 
The in-house team at Network have said: 'Firstly the not-so-good news that we have had to delay the release date of Monty Python's Flying Circus Norwegian Blu-ray Edition. The absolutely spiffing news, however, is that during the course of the restoration, just as we thought we'd seen everything, more cans of film material emerged from other quarters that could, frankly, have been anything. Our team is painstakingly going through every frame of the archive and have discovered a wealth of Python nuggets. It would be impossible to include this material and still make the original release date, but it was an easy decision as not only is a lot of the material being seen for the first time, it is all being restored and presented in HD.'
The box set will contain all 45 episodes restored and uncut to mark the 50th Anniversary of Monty Python's Flying Circus.
In 1969, Graham Chapman, John Cleese, Terry Gilliam, Eric Idle, Terry Jones, and Michael Palin created Monty Python which unleashed their unbridled silliness on an unsuspecting world…and took it over! Now, years in the making, Network is proud to present the entire original television series of Monty Python's Flying Circus, fully rejuvenated for the first time. Sketches, some cut after initial broadcast, some excised completely, others edited to make more palatable have been carefully restored to their intended length. The majority of Terry Gilliam's animations have been newly scanned in high-definition and restored to a specification way beyond their original format. Hitherto unseen outtakes, film inserts, and studio recordings have been retrieved, adding yet another dimension to this exclusive release. This is the ultimate television restoration and a must for every generation of Python fans. 
Tim Beddows, MD of Network Distributing, is "thrilled that we've been given the opportunity to restore Monty Python's Flying Circus. It's long overdue and the results our award-winning team have yielded from the original materials are just staggering. One of the best restorations I've ever seen."
In addition to the Network's limited edition release, and subsequent individual series releases, further 50th anniversary happenings will include a season at the BFI Southbank with screenings of films and series from and influenced by the troupe, a takeover at the BBC, Michael Palin's exec. produced programmes for BBC Radio 4, and a Guinness World Record attempt for the 'Largest Gathering of People Dressed as Gumbys.'
The box set will now be released worldwide on 4th November.
Pre-orders are exclusively from Network HERE.