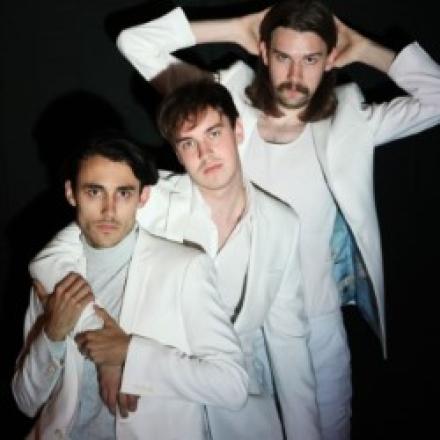 In a darkened cellar, aided only by some hats, a few sheets, some torches and a mop, three young men re-enact World War Two.
We meet a young man so lonely he has only a mop, a table and ashtray for company, an evil actor, the man who does everything by the book and a host of strangely eccentric British generals and camp dastardly Nazis.
The action goes from the centre of London to the heart of Nazi Germany  - in a ramshackle action adventure crammed with absurdist imagery.
It's easy to lose the thread of what is really supposed to be happening – but there's a foolishly elaborate assassination plot, a cabaret scene, complete with dancing, several dream sequences and a supernatural King Rat.
Michael Clarke, Ed Jones and James Gault dash backwards and forwards behind the black stage curtain, changing, coats hats and personalities to engage in complex scenes involving multiple characters. At one point Gault engages in a gun battle with himself – slowing down time so that he can be both the person who gets shot and the person holding the gun. 
Gault is physically brilliant, while Clarke handles the dialogue most confidently and Jones has a curious ability to shapeshift.    Apparently slapdash, the three performers appear to struggle to keep up with the endless twists and turns of the plot – which only adds to the overall charm.
Amazingly this ludicrous story has a touching emotional heart.   All the Crybabies have Daddy issues, of one kind or another.  There's an orphan, a neglected son, and a grieving father. 
Somehow or other these loose ends all get tied up – and families are re-united, wrongs righted and meaningful friendships forged.
World War Two is more or less forgotten as the absurd psychodrama between fathers and sons is resolved. Evil is defeated, love triumphs and there is even a happy ending for the much abused mop.
Crybabies, Danger Brigade is at Heroes @ Boteco until August 25. Details here.
Read more Edinburgh Fringe reviews here.
****