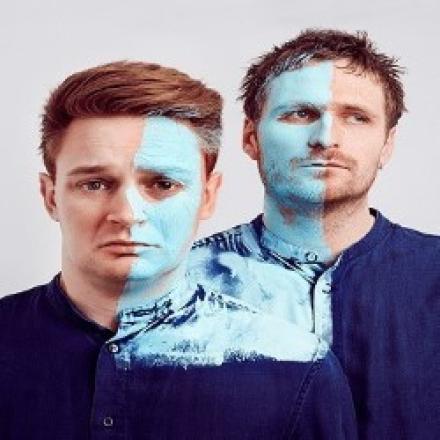 The Dougal of the title is the lighting and sound technician behind the desk.
Henry Perryment and Joe Barnes play backstage staff, who have to fill in when the advertised act fails to show. 
Our plucky heroes are also at the mercy of Dougal, who plays tricks with the sound and lighting cues and who has an improbable dislike of swearing. 
The device is a neat way of framing a fast paced sketch show, which includes movie parodies, lip-synching and beautifully choreographed little stories.
From the moment they bounce onto the stage there is no mistaking Perryment and Barnes for genuine backstage staff. 
They jump into a re enactment of Forrest Gump in a conversation about why one of them has been late for work.  They discuss past employment and suddenly are in a kitchen, cooking an improbable meal.
The pair, who met at University when they were in The Leeds Tealights, have an  appealing informal style, which feels almost as if they are improvising.  But everything is tightly choreographed and timed to perfection. 
There's a lovely bit of business with some sparkling stars and another beautiful moment when the stage is lit with the light from mobile phones held by the audience. 
While some male, university born sketch groups have a tendency to rely much too heavily on the shouty school of acting, Goodbear are able to embrace the quiet moments, which is a blessing. 
There's even a full on song and dance routine, for which they are joined by current members of the Tealights, who are also performing in Edinburgh. 
Throughout the show the vagaries of Dougal add an extra element of surprise, with the technician lighting the wrong person, playing the wrong music or even abandoning his desk altogether, when the level of swearing (which is unbelievable minor by Fringe standards) meets with his disapproval.
Goodbear: Dougal is at Pleasance Dome until August 25. Tickets here.
Read more Edinburgh Fringe reviews here.
***