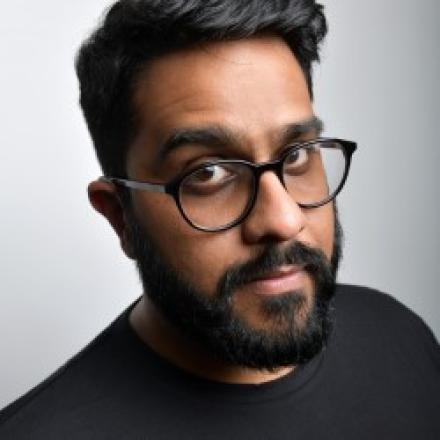 For Muslim families a data sheet is a way of comparing eligibility for marriage, which includes economic status, qualifications and family heritage.
On paper Eshaan Akbar is an excellent match. His parents and grandparents were eminent accomplished and intelligent. He has a fine education – and before becoming a comic he had a well paid, prestigious job.
His parents are liberal and he's not religious, so there is no pressure for him to get married. But he'd like to find love – so he's decided to work out why his love live has never matched up to the potential of his data sheet. 
Akbar talks us through his romantic history, with particular emphasis on failure, disappointment and heartbreak. He explores choice, consent, sexual health and recounts the outstandingly awkward story of his first ever orgasm.
He's an affable, self-deprecating narrator, who is not afraid to share with us his secret hopes and dreams. He's comfortable with his own frailties but he's also touchingly open about the women who have let him down.
As Akbar tells his story we realise how different his romantic expectations and experience are from those of his parents' generation. He explains why the relationship between daughters and their mothers in law in Asian families is such a stressful one – and he gives us a hilarious explanation of the way this tension plays out in a popular subcontinental sitcom.
There's an innocence about Akbar – who is happy to admit he was a late developer when it came to sex. When he finally does get down to it, his descriptions are surprisingly graphic – but we're cheering him on, happy he finally got there.
His yearning for a real, satisfying relationship seems genuine and sincere and he throws an interesting light on both the frustrations and the advantages of being from a loving British Asian family.
Eshaan Akbar, Infidel-ity, Gilded Balloon until August 26. Tickets here.
Read more Edinburgh Fringe reviews here.
***