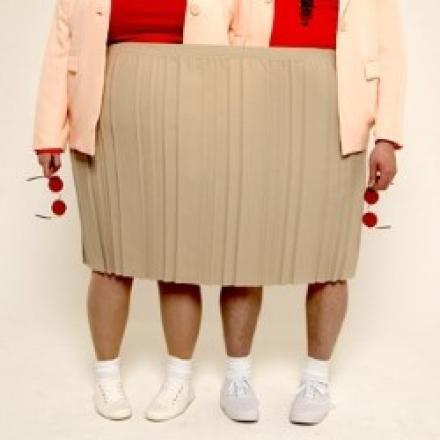 The dark heart of light entertainment is exposed in this hilarious hour packed with surprises.
Chris Cantrill and Amy Gledhill introduce themselves as the resident artistes at a grim northern holiday resort called Ginster's.
There's an introduction voiced by Johnny Vegas, a karaoke singalong with disturbing lyrics and a discernable air of desperation from our pink-coated hosts.
Ginster's is a resort seriously down on its luck, awash with drugs, food poisoning and stomach churning sexual intrigue.
Beneath the fake camaraderie we also sense underlying tensions between Amy and Chris. Amy has ambitions of her own and dreams of escape while Chris is a mass of simmering resentment, who believes men are being undermined in modern life.
There are also worrying rumours of foul play, not to mention a deeply sinister children's entertainer who threatens to appear at any moment.
On the surface, Ginster's Paradise appears to be a satirical take on rubbish, old fashioned working class entertainment. But as events at the camp spin out of control things take a darker turn. 
The laughs come thick and fast and there are some brilliant, original, filthy and extremely silly running gags about Brexit, gender stereotypes and life in the North of England. 
The premise is corny, the characters grotesque and the plot becomes more and more improbable as the show goes on – but this is an hour packed with ideas and full of outrageous laughs.
The action includes bingo, dance numbers, a quiz, a creepy innkeeper, musical trivia and a truly terrifying visit to the children's club. And we gain some surprising insights into comedy, the Edinburgh Fringe and the strange co-dependent relationship behind every double act. 
Cantrill and Gledhill have great chemistry and spark off each other with glee, improvising, corpsing and trying to throw each other off balance by throwing in extra plot twists. It's brilliant, dirty, massively silly and great fun.
The Delightful Sausage, Ginster's Paradise, Monkey Barrel until August 25. Tickets here.
Read more Edinburgh Fringe reviews here.
****