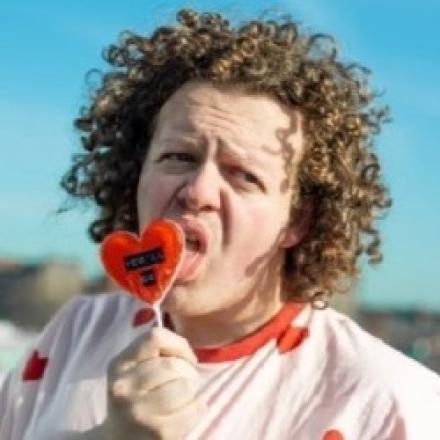 Gig theatre is a big thing these days. Having a live band or a solo musician on stage to provide a soundscape is having a moment.
Jack Rooke, storyteller and broadcaster, performs his show about love to the accompaniment of classical harpist Alexander Thomas. 
His previous shows have covered loss and mourning but in this one 'no one dies'. 
But Rooke does confess at the outset that he's struggled with mental health issues – what he breezily calls "a breaky D".
For his show about looking for love he has dressed in a bright red suit, covered with hearts. Thomas is similarly attired and the little tent is hung with sparkly lights.
Rooke invites us into the unsteady perilous world of gay courtship. There is teenage homophobia to contend with, then scary clubs, drugs, fetish chasing weirdos, body fascism and attention draining mobile phone apps.
He promises to tell us lots of stories about cock – but gradually we realise this is just bravado and Rooke is just as bewildered and confused as anyone else about what he should be looking for and how to go about it.
He's open and charming and honest about his secret fears and his secret shame.
And he introduces us to his friends and family members with such clear and powerful descriptions that we feel as if we know them too.
Rooke is immensely likeable and easy to listen to  - covering some serious subjects with a remarkable lightness of touch.   
Like many gay men he has internalised homophobia but he finds a touching and beautiful way to resolve this in a heartfelt letter which takes him back to his teenage years and finally addresses a long held secret. 
Gay or straight, we are all just looking for love and acceptance – and this warm, endearing and uplifting show is a celebration of that.
Jack Rooke: Love Letters, Assembly George Square until August 24. Tickets here.
Read more Edinburgh Fringe reviews here.
***