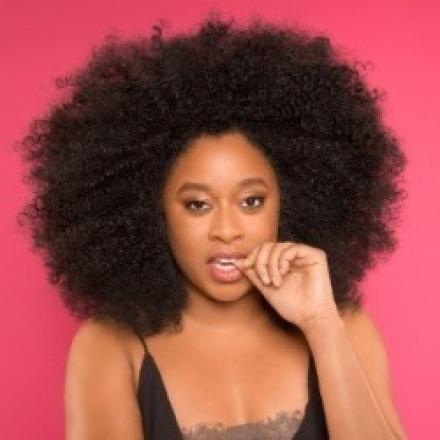 Phoebe Robinson is a name very much on the rise in America. As half of the podcast 2 Dope Queens her candid, full-on brand of humour has won millions of fans and it has just been announced that she is to get her own chat show on Comedy Central. She probably doesn't need to make her UK debut at the Edinburgh Fringe to give her profile a boost.
Her show, Sorry, Harriet Tubman feels a little like a work-in-progress at times. That may be partly to do with the fact that she has such a relaxed, easy going manner onstage and partly to do with the fact that some of the material is brand new. After an extended riff about circumcision suggesting that the least men can do on the hygiene front is wash their dicks, she says it's a brand new routine that she only wrote that day. There are some good laughs in there but nothing earth-shattering yet.
Her opening story, about moderating for Michelle Obama on the former First Lady's book tour has more punch. Robinson was understandably in awe of "Miche" but they soon bonded – partcularly when Robinson saw the backstage rider which she says consisted of booze and cheese. Despite being lactose intolerant she tucked in, with suitably comic results.
Bodily functions feature pretty heavily in the set, as does sex. Robinson has just moved in with her British boyfriend so talks about their decision not to have children and how she sends out the signal that she is not in the mood for love-making. Why it has to involve her hair rather than just saying to her boyfriend she doesn't feel in the mood in this post-feminist world I'm not sure. 
This is a crowdpleasing show that is strong on delivery and personality – it's impossible not to warm to Robinson's easy-going openness and candour – but less strong on material. Her closing routine is a take down of the Kingsman movie. Not even the recent sequel, the 2014 original. She quickly homes in on the final scene in which Eggsy gets his dubious sexual reward for saving the world. It was much talked about and critiqued at the time and she doesn't really add much to the debate.
Apologies if it sounds like I'm manspreading, I read that Robinson doesn't mind white dudes coming to her shows as long as they don't manspread too much. Robinson is never less than funny, but in a city bursting with talented comics at the moment – a notable number of them women of colour – there is not a great deal here to make her stand out. Sorry, Phoebe Robinson.
Phoebe Robinson: Sorry, Harriet Tubman, Assembly George Square until August 25. Tickets here.
Read more Edinburgh Fringe reviews here.
***