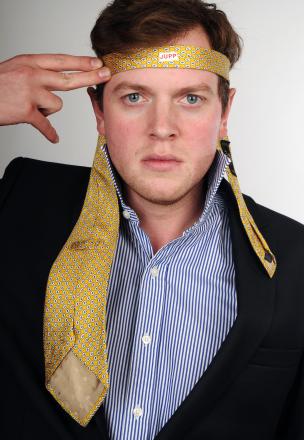 'Foiled', the sitcom set and recorded in a Tonypandy hairdresser, returns to BBC Radio Wales/BBC Sounds for a third series, which includes guest appearances from Sir Derek Jacobi, Miles Jupp, Alexandria Riley, Alistair Green, Richard Clifford and Ralf Little, who join the regular cast of David Oakes, Beth Granville, Garnon Davies and Stephanie Siadatan.
This time round the staff of 'Bleach for the Stars' deal with a Danish work exchange, a family of hedgehogs, a visit from 'God Uncle Derek', and the salon's fifth anniversary. The final episode closes on a huge cliff-hanger.
The series – which began as an Edinburgh show in 2016 – has amassed a loyal fanbase, with audience figures reflecting this. The sitcom is written by Beth Granville and David Charles and produced by Tom Price for The Rubber Chicken.
Miles Jupp, who voices 'Roger' in the series, commented: "It was really great fun to do another episode of Foiled for BBC Radio Wales. I think the scripts are very funny, and it's a lovely cast."
Ralf Little, who voices 'Simon' commented: "Foiled: Lovable characters, witty one liners, silly wordplay, laugh out loud set pieces and at its core, bags and bags of heart. I'd do it again in a second."
Writers Beth and David add: "We're lucky to have such an incredible cast for Foiled. We say luck, but it's more a combination of audacity and really good manners. Beth met Ralf Little on an NHS march and she met Derek Jacobi and Richard Clifford while working as a humble production assistant. Actors do 'Foiled' because they believe in the scripts and they believe in the team putting it together. That's a lovely thing to remember and makes us want to write the best we can for them."
'Foiled' will be aired on BBC Radio Wales each Monday for four weeks from 9th September 2019 and will be available also on BBC Sounds. Episodes will be repeated each Saturday. The series runs until 5th October 2019.
Foiled Cast:
Sabrina - Beth Granville
Richie - David Oakes
Tanisha - Stephanie Siadatan
Tariq & Frankie - Garnon Davies
Yorrick Van Loon - Alistair Green
Alex - Alexandria Riley
God Uncle Derek - Derek Jacobi
Beverly - Richard Clifford
Roger - Miles Jupp
Marc, Security Guard & Meditation Leader - Will Kirk
Simon Verana - Ralf Little
Vince - Samuel Gosrani
Picture of Miles Jupp by Steve Ullathorne