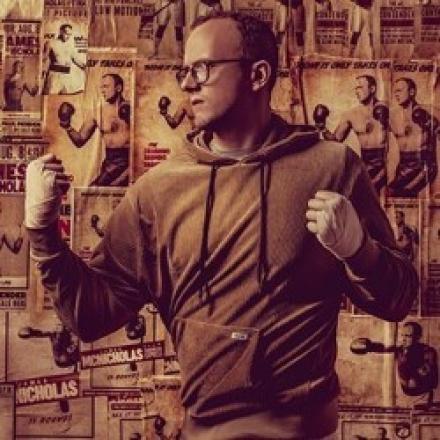 Last year Ciarán Dowd from sketch group Beasts broke out with his acclaimed solo show Don Rodolfo, which won the Edinburgh Comedy Award for Best Newcomer. Could it be the turn of fellow Beast James McNicholas this year, who steps into the solo ring with The Boxer, which, like Don Rodolfo, is directed by comic Tom Parry?
You might not think it to look at this arty-farty speccy comedian but his grandfather was British boxing legend Terry Downes, who was one of the best fighters in the world in the 1950s and early 1960s. After a dramatic intro telling the first part of his grandad's story McNicholas breaks out of character to reassure his audience that this is not a play. Actually I've seen plays in the theatre that are a lot less like plays than this but that doesn't matter. The Boxer is a riveting, heartwarming work, passionately told and very funny too. 
As McNicholas switches between playing Downes and playing himself parallels and contrasts start to emerge. For Terry world title fights were a career highlight, for James a career highlight is doing a cracker ad for Belgian television. Now in his early thirties James is a late starter compared to Terry, who had retired by the time he was 28.
As McNicholas notes early on, the Downes story fits in neatly with the classic rise/fall resolution format of seemingly every boxing movie ever made. And, of course that's the underlying format of this elegant, energetic show too. As a footnote I can't believe nobody has ever filmed the Terry Downes story, though judging from the monochrome clips of the young, wiry fighter Lee Evans (an ex-boxer himself) might be more of a shoe-in for the lead role than the self-deprecating McNicholas, who looks like a bookish academic even when he dons his gloves and bright red boxing shorts.
There are plenty of suprises here to keep you on the edge of your seat. Most notably when McNicholas talks about his wedding and honeymoon in 2017. What happens there brought him even closer to Terry in ways that he could never imagine. These two past/present strands are skilfully weaved together with the aid of archive onscreen and interviews. McNicholas, who has the comic air of a posher Alan Carr about him, is very nearly upstaged by anecdotes from his grandmother, Terry's widow, who offers wise words on film and via recorded telephone conversations.
I could fill this review with apt boxing puns. I've done by best to avoid that so far, but a couple are irresistible. Let's just say it's a knockout show with a performance from McNicholas that absolutely packs both a comic and dramatic punch.
James McNicholas, The Boxer, Pleasance Courtyard, until August 25. Tickets here.
Read more Edinburgh Fringe reviews here.
****