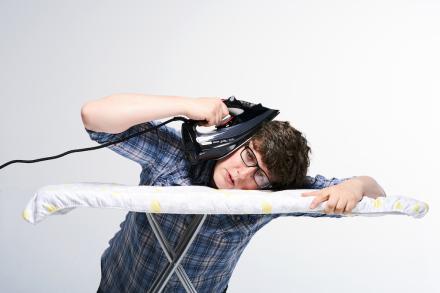 Glenn Moore returns to the Edinburgh Fringe this year after bagging an Edinburgh Comedy Award nomination in 2018. He's a master of getting straight to the funny. Before you even buy your ticket for his latest show there is a gag in the title – Love Don't Live Here Glenny Moore.
Prior to being a stand up and comedy writer Glenn was a newsreader on TV and radio as he felt obliged to do something respectable. Recently he realised that his entire life was based on other people's expectations and not what he really wanted. His new show takes a look back at his experiences as a journalist and his divorce during that period and how he realised he didn't want that career or to be in that relationship…He's speaking his mind and doesn't care who knows it.
He has appeared on Mock The Week (BBC), Rob Delaney's Stand Up Central (Comedy Central) and The Stand Up Sketch Show (ITV2) and can be heard daily as one quarter of The Dave Berry Breakfast Show on Absolute Radio. He is also a staff writer on CITV's sketch comedy show Scrambled and has written for The Mash Report, Play To The Whistle and Russell Howard's Good News. 
Glenn Moore's new stand up show 'Love Don't Live Here Glenny Moore' will be at the Pleasance Courtyard Cabarat Bar at 4pm daily from 31st July – 25th August. For tickets go to www.edfringe.com
1. What is the last thing you do before you go onstage (apart from check your flies and/or check your knickers aren't sticking out of your skirt and check for spinach between your teeth)?
I tend to talk very quickly onstage so I do a series of vocal warmups that, if overheard by any eavesdroppers, would be utterly humiliating. A real career-ender. I step things up a notch if I'm at the Edinburgh Fringe, where a few hours beforehand, my warm-up is I perform the show (in full), alone in my room. This chat's just between you and me, right?
2. What irritates you?
Small talk about something you're wearing or doing. If you're making breakfast in a kitchen and someone says "Ah, a bit of the ol' Alpen!" absolutely fuck off. Get out of this building. Thanks for making me self-conscious about cereal, you cop.
3. What is the most dangerous thing you have ever done?
Not deliberately, but I ran out of petrol while driving through Death Valley. My friend and I had to turn the engine off and gentle roll down the slightest of inclines for 5 hours to get to the nearest town. Neither of us wanted to complain in case we got blamed by the other for getting us into that situation, so we spent 5 hours going "And this is absolutely fine. Very normal!"
4. What is the most stupid thing you have ever done?
Walked from Sheffield to Manchester with a friend, purely out of boredom. It took 12 hours, we ran out of things to say after 4. The idea was we weren't going to eat all day, then go to an all you can eat restaurant upon our arrival just to see how much we could consume. We arrived in Manchester 10 minutes before the last train back to Sheffield, so we ended up hurriedly having a Burger King and it was fucking crap. The most embarrassing bit was people asking us afterwards "So which charity did you do it for?" Nope, just us. For free.
5. What has surprised you the most during your career in comedy?
That no matter what level you're at, you can end up on the same bill as the biggest comedians. It was insane doing about my 6th open spot and Harry Hill popped in to try out some stuff. Then you have 'Opened for Harry Hill' on comedycv.co.uk for life. It's a lie, but he's not checking that website any time soon.
Interview continues here.