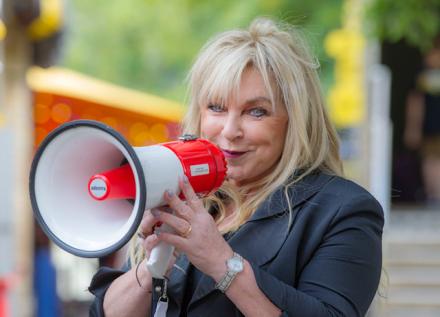 The inaugural Comedy Women in Print Prize (CWIP) for Published and Unpublished writers was announced this evening (Wednesday 10 July), at a ceremony at The Conduit Club in London.
In the Published author category, journalist and debut author Laura Steven won with The Exact Opposite of Okay (Egmont), her "daring, edgy and topical" Young Adult novel about slut-shaming and the issues faced by girls today. Stage and screenwriter Kirsty Eyre won the Unpublished category for queer rom-com Cow Girl, "an original and modern take on a romantic storyline" set in the unlikely world of dairy farming. Multi-million copy bestselling author Jilly Cooper CBE was awarded the first CWIP Lifetime Achievement Award in recognition of her legacy and inspiration to comic women writers everywhere. The award was presented by Theo Paphitis, CEO of Rymans and CWIP sponsor.
Laura Steven was presented with a prize of £2000 pledged by sponsor, The King of Soho Gin with four runners up each receiving £250.
Marian Keyes, Chair of the Published prize judges, commented: "There were two top contenders for this prize. In the end the final choice was made based on the potential of extremely young and witty writer Laura Steven to go forward and continue to make her mark while pushing boundaries for funny women's fiction."
The Unpublished category winner Kirsty Eyre was awarded a publishing contract and £5000 advance from HarperFiction. The Unpublished runner-up Abigail Mann (The Lonely Fajita) received a free place on the Creative Writing MA course at the University of Hertfordshire, which was presented by Professor Anne Murphy, Dean of the School of Humanities, University of Hertfordshire.
Jenny Éclair, Chair of the Unpublished prize judges, commented: "There was huge affection from all the judges for Kirsty Eyre's witty novel set in the world of dairy farming. The narrative voice was as strong as it was instant. This is an inspired and stylish read which was both smart and edgy. We cared about the clever protagonist, the supporting characters and the cows in equal measure."
The CWIP Prize was launched by actress, author and stand-up Helen Lederer (pictured) in response to the lack of exposure for female comedy writing, and to celebrate fresh and established talent.
Helen Lederer commented: "I've lived and breathed CWIP for so many years that the enormity of crowning the winner sat quite heavily. But every judge was committed to finding a winner that reflected what we are here for – to celebrate witty women's fiction - both unpublished and published. When it came to the wire (and the competition was as varied as it was strong) it was felt the author who was most poised to break through and continue to deliver quality humour should get it. Originality, wit and relatability were also nailed.
The Exact Opposite of Okay by Laura Steven has a unique voice that is as assured as it is witty – and while it is set in a young person's world - the judges easily connected to the narrative and humour. In the unpublished category the judges were unanimously impressed with Cow Girl by Kirsty Eyre. The intelligence of the characters was both refreshing and compelling while the wit of the narrative connected the reader throughout. Visibility in women's wit on the page has changed even since I had the idea for CWIP five years ago."
Newcastle-based Laura Steven is an author, journalist and screenwriter. She has an MA in Creative Writing and works at a non-profit organisation supporting women in the creative arts. Her TV pilot, Clickbait, was a finalist in British Comedy's 2016 Sitcom Mission. The Exact Opposite of Okay is a fresh, feminist and very funny novel which tackles the issues faced by young girls today. This shockingly relevant take on an 18-year-old dealing with unwanted online fame and slut-shaming is a bold, brave and necessary read.
Kirsty Eyre lives in London and grew up on the South Yorkshire/Derbyshire border idolising Victoria Wood and Jo Brand. Having studied languages at Nottingham Trent University, she's written several comedy plays, television screenplays, and has been Shortlisted for BBC Sharps. In her vividly characterized and unpublished queer romcom Cow Girl, city girl Lorna Parsons discovers she's not the only gay in the village when she ditches London life to work on a dairy farm. But will she win over the farming community?
Laura Steven beat off stiff competition from her fellow Published category shortlistees: Sunday Times bestsellers Gail Honeyman (Eleanor Oliphant is Completely Fine) and Gill Sims (Why Mummy Swears); hilarious up-and-coming author Asia Mackay (Killing It); and Singaporean novelist Balli Kaur Jaswal (Erotic Stories for Punjabi Widows).
The CWIP Published Prize judging panel was chaired by international bestselling author Marian Keyes and included comedian and author Katy Brand; stand-up comic Shazia Mirza; bestselling author Kathy Lette and journalist and author Allison Pearson.
Shortlisted writers in the Unpublished category included editorial assistant Abigail Mann (The Lonely Fajita), International Development Agency worker Helen Doyle (The Ladies' Guide to Finding Love), country musician Lotte Mullan (Love Is Strange), and full-time mum Jo Lovett-Turner(New Year at The Duck and Grapes).
The unpublished CWIP Prize judging panel was chaired by Perrier Award winner and Sunday Times bestselling author Jenny Éclair, and included fellow writer, broadcaster and stand-up comic, Susan Calman; Dr Jennifer Young, Head of Writing and Journalism at Falmouth University; critic and author, Fanny Blake, Lara Marshall, book blogger and librarian with Hillingdon Libraries; Karen McPherson and Martha Ashby, Editorial Director at HarperFiction.