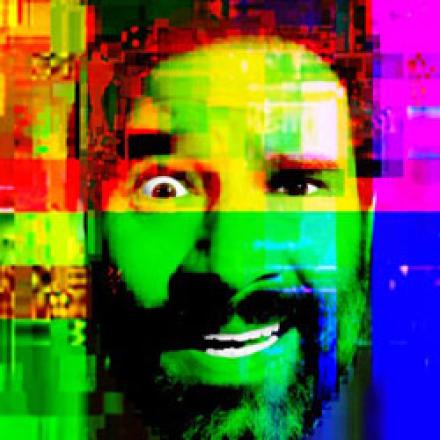 The first names have been announced for this year's London Podcast Festival.
Big UK names appearing live include Years and Years star Russell Tovey, who will present a live version of his Talk Art podcast; Tracy Ann Oberman and celeb friends talking candidly about what it's like to be Trolled and original podcast superstar Adam Buxton (pictured) with a unique live version of his much-loved podcast.
Joining them will be US cult heroes Mike Mitchell and Nick Wiger, aka chain restaurant fanatics Doughboys, experiencing every culinary delight that the UK high street has to offer; Nick will also be hosting a live edition of How Did This Get Played? alongside regular co-host Heather Campbell charting his attempts to play the worst video games ever created. Fellow US podcasters flying into town for the festival include Jonathan Braylock, Jerah Milligan and James III whose Brooklyn-based Black Men Can't Jump [in Hollywood] reviews the films of leading black actors and discusses them in the context of Hollywood's race problem; Kevin Allison presents RISK!, the blockbusting podcast where big-name performers tell true stories they never thought they'd dare to share in public and Erin Gibson and Bryan Safi with topical comedy show Throwing Shade, a fresh and politically progressive look at pop culture, women's rights and the LGBTQ community.
And fresh from sweeping the board at the 2019 British Podcast Awards where he took an unprecedented five Gold Awards (including the coveted Podcast of the Year), George Mpanga aka George The Poet appears live at the festival with his genre-defying, mind-boggling fusion of sound, storytelling and social change Have You Heard George's Podcast?  
The fourth annual festival takes place at London's home of UK podcasting, Kings Place. Since 2016 the festival has seen over 18,000 visitors enjoy unique one-off versions of some of the world's biggest podcasts with previous star guests including Kumail Nanjiani, Rob Delaney, Starlee Kine, Armando Iannucci, Clarke Peters, Stephen Mangan, Sharon Horgan, Chris Addison, The Slumflower, Sue Perkins and Nick Hornby. 
Other events confirmed for 2019 include Sofie Hagen and Jodie Mitchell's Secret Dinosaur Cult, about daddy issues, trauma, queerness and, of course, dinosaurs; Cariad Lloyd and special guest dissecting grief and loss with inimitable humour in Griefcast; Sadia Azmat and Monty Onanuga figuring out life, love and work in a white man's world in their BBC podcast No Country For Young Women; raw and uncut conversation about the profound and the trivial from Cut the Chat; and the return of 2018 festival favourites Mostly Lit, the award-winning books and pop-culture podcast, created and hosted by Alex Reads and Raifa Rafiq.
There will be special live episodes of podcast sitcoms Wooden Overcoats and Brian & Roger and comedy-drama Dem Times following British-born troublemaker Samuel Adjei's adventures in a Ghanaian boarding school; Kings Place regular Deborah Frances-White will return with her blockbusting The Guilty Feminist. Audiences can get the very latest news in the production of beef animals and dairyherds courtesy of Ben Partridge's Beef and Dairy Network podcast; get the latest news and reviews on the hottest content on the small screen courtesy of the Pilot TV Podcast; reminisce about iconic kits and legendary players with Alex and Uche's Retro Football Shirt Podcast and join Sam Clements as he curates a fictional film festival where anything is accepted, as long as it's concise, in his 90 Minutes Or Less Film Fest podcast.
Tickets for the first wave of events are on sale from today at www.kingsplace.co.uk. More names to be announced.