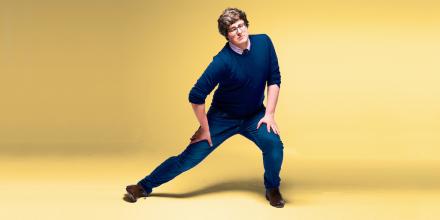 Edinburgh Comedy Award Nominee Glenn Moore has announced his first nationwide tour. It starts on 20th September at Colechester Arts Centre and runs until 23rd January 2020 at the Salford Lowry.
The tour will consist of his two latest show – his new show Love Don't Live Here Glenny Moore which will debut at the Edinburgh Festival Fringe 2019 and explores his previous life with his 'proper' job as a newsreader and contemplates the realisation that everything in his life is purely down to obligation. And 2018's critically applauded and Comedy Award nominated show Glenn, Glenn, Glenn, How Do You Like It, How Do You Like It which follows Glenn's misjudged application to the Mars One initiative and the demise of a failing relationship.
Building on the success of a sold-out, acclaimed month long run at the Edinburgh Festival Fringe – dates and tickets here – , Glenn has become a regular on Mock The Week (BBC Two) and was featured on Rob Delaney's Stand Up Central (Comedy Central) and The Stand Up Sketch Show (ITV2). He can be heard every weekday on Absolute Radio's Breakfast Show alongside Dave Berry after previously presenting on Radio X as a newsreader and regularly featuring on BBC Radio 4.
Glenn's writing credits include The Mash Report (BBC Two), Mock The Week (BBC Two), Russell Howard's Good News (BBC Three), Play To The Whistle (ITV) and being a staff writer on the CITV sketch comedy show Scrambled.
His third comedy hour Glenn, Glenn, Glenn, How Do You Like It, How Do You Like It which earned him a Comedy Award nomination and followed the celebrated Very Best of Belinda Carlisle and his debut show Glenngarry Glen Glenn which received much critical acclaim, was one of the year's best reviewed debut shows at the Edinburgh Fringe, and received a nomination for Best Debut Show at the Leicester Comedy Festival. Glenn is also one half of the critically- acclaimed sketch comedy duo Thunderbards, who have been described by GQ as 'Without question one of the funniest sketch groups on the Fringe' and have performed on BBC Radio 4's Sketchorama and BBC Scotland's McAuley And Co.
Tickets on sale now, click here to buy tickets.