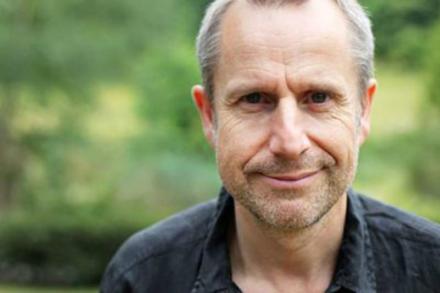 Friends and family of Jeremy Hardy gathered to celebrate his life on Monday 13th May at the Battersea Arts Centre. This piece below wasn't written by me. It has been published on Jeremy Hardy's website and we republish here with permission. Hardy was a supporter of Parwaz, a film project about 9-year-old Ahmad, who fled from Afghanistan to Europe in 2016. Ahmad's story received international attention when he saved himself, his brother and 14 other refugees from suffocating in the back of a refrigerated lorry in which he had been smuggled from France to England by sending an SOS text to a volunteer he'd met along his journey. If you would like to help to get the film made you can pledge money here. There is also a Radio 4 tribute to Jeremy Hardy on May 16 & 23. Details here. Bruce Dessau.
"He collected people," said Jack Dee, who shared compere duties with Mark Steel. Over four hours, comedians, producers, actors, politicians, siblings, activists and refugees took to the stage to reminisce, and to joke, and to fill the room with Jeremy's presence.
They included Jeremy Corbyn, who spoke of a friendship stretching back to the the 1980s. "Jeremy was one who always gave his all to any campaign," he said. He was followed by John McDonnell, who spoke of working with Jeremy on the campaigns to free the Birmingham Six and Guildford Four.
"I loved the man," he said, before explaining that he was then leaving early to continue Brexit negotiations with the government.
At times, Jeremy's voice came recorded, from speakers. Another time, it came, breathtakingly, from Rory Bremner, with whom he once shared a house. "I used to live in Rory's attic," he said, in Jeremy's voice. "That's why he looks so young." Harry Enfield played tribute in full Loadsamoney character, remembering Jeremy on Radio 4, which "is like TalkSport, but shit". Julian Clary recalled him "being scathing about the Tories in a cardigan".
Mark Steel spoke of being called by an obituarist after Jeremy died, and being asked, "was he political at all?" and his regret that he hadn't retorted that Jeremy was the chairman of his local Conservative Association. Jack Dee, like many, recalled Jeremy's mischief, and his habit of flicking ahead in the pages of flipcharts in rented conference suites, to leave, for the unwary, a sketch of a penis.
Former colleagues spoke in awe of his comic ability and delightful rage. Her favourite moments of the News Quiz, said Sandi Toksvig, was "when Jeremy went off on one, and I would take off my glasses and sit back, knowing that there were ten unbroadcastable minutes ahead of us". He also, she revealed, heckled her at her own wedding, shouting out, "it should have been me!" According to Andy Hamilton, "it is an honour to be here, and it is also pretty inconvenient, which is what Jeremy would have wanted." John Naismith, who produced Jeremy in I'm Sorry I Haven't A Clue, made the room collapse simply by reading out some of Jeremy's messages in his inbox.
Victoria Coren spoke of Jeremy's friendship with her father, Alan, and of how he sourced a yarmulke for his funeral, and wore it, even though nobody else had one, because it was in a churchyard. Younger comics, such as Francesca Martinez and Seann Walsh spoke of his mentorship; of meeting him as fans and of him flatly refusing to accept that dynamic and turning them into friends instead. Jeremy's sisters, Serena and Joy, described him as a child, with Jack Dee reading extracts of the already hilarious letters he was writing to them as a thirteen-year-old. "On Monday," he wrote, "nothing happened." There was music, including a haunting Shipbuilding from Charlotte Church and performances from Loinnir McAliskey and She Drew The Gun. Kathryn Williams performed a song called Prospero, written for Jeremy.