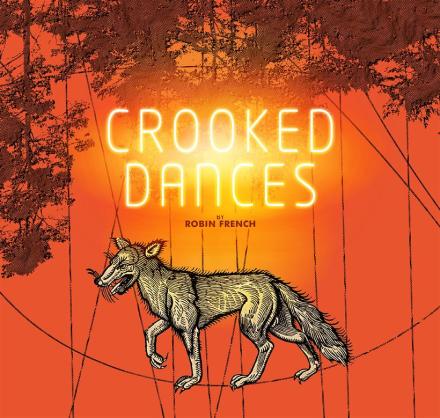 Crooked Dances is by award-winning playwright and screen-writer Robin French, co-writer of the hit BBC Three sitcom Cuckoo.
The world premiere of the Royal Shakespeare Company production will run from Thursday 20 June to Saturday 13 July in the Studio Theatre at The Other Place, Stratford-upon-Avon.
Journalist Katy is desperate for her big break, and an interview in Paris with world famous concert pianist Silvia de Zingaro looks like just her chance.
But the odds are against her. After a disastrous interview, Katy feels certain there's a bigger story there than meets the eye. She hunts for clues, finding Silvia has a collection of mystical books and an apparent fixation with composer Erik Satie. Just as Katy's hope begins to fade, a mysterious night-time encounter with the pianist may well give her the scoop she's looking for… 
Making their RSC debuts in the roles of concert pianist, Silvia de Zingaro and the journalist, Katy Porlock, are, respectively, Ruth Lass and Jeany Spark.  Ruth's credits include Equus(English Touring Theatre), Great Apes (Arcola) and A Short History of Tractors in Ukrainian(Hull Truck). Her TV work includes Silent Witness (BBC) and Houdini and Doyle (ITV). Jeany's credits include Skylight (Theatr Clywd) and Battleface (Bush Theatre); and on screen Collateral (BBC), Linda Wallander in Wallander (BBC), and Emma Lipsey in Man Down(Channel 4).  
Ben Onwukwe returns to the RSC to play Denis Zann, Silvia's manager.  Ben's RSC credits include Days of Significance, Pericles and The Winter's Tale.  Other theatre credits include New Nigerians (Arcola), The Treatment (Almeida) and The Shawshank Redemption (Tour).  Television work includes: Safe (Netflix), Marcella (ITV) and EastEnders (BBC).
Olly Mott plays Photographer, Nick Sobers.  His theatre credits include Milked (Soho Theatre), Almost Near (Finborough Theatre) and a season at Theatre by the Lake, Keswick.  He has worked for the BBC on EastEnders and Doctors. Crooked Dances is his RSC debut.
Playwright Robin French said "Having felt ready to write a new play, I approached the RSC, knowing that Head of Literary Pippa Hill has an extraordinary talent for unlocking writers. Sure enough, the first inspiration for the play came. I was on a train, listening to a playlist on Spotify. When I heard Erik Satie's 'Crooked Dances' for the first time, I felt a strong intuition that that was where the treasure was buried. The play that evolved melds my fascination with Satie's music with the preoccupations of our 21st Century digital society. I'm delighted to be working with the brilliant director Elizabeth Freestone on this, my first commission with the Royal Shakespeare Company, and I can't wait to share it with audiences."  
Robin French's hit sitcom Cuckoo, written with long-term collaborator Kieron Quirke and starring Greg Davies was BBC Three's most-watched comedy launch and went on to gain a repeat run on BBC1 as well as nominations at BAFTA and the British Comedy Awards. 
Robin's first play, Bear Hug, won the Royal Court Young Writer's Festival and was produced at the Royal Court in 2004, where it earned an extended run. He is a writer in residence for The Birmingham Rep, and under commission to the RSC. His film Crocodile won awards at Cannes, Encounters, and Guanajuato festival in Mexico, and was BIFA nominated for Best British short. Robin is currently writing a feature film about David Bowie and Iggy Pop, as well as developing new drama projects for television. 
Crooked Dances is designed by Basia Bińkowska; Lighting by Lauren Watson; Music and Sound by Max Pappenheim; and Dramaturg, Pippa Hill. 
Crooked Dances By Robin French
Directed by Elizabeth Freestone
The Other Place, Stratford-upon-Avon
Thursday 20 June – Saturday 13 July
Press night: Wednesday 26 June at 7pm
To book tickets call 01789 331 111 or online at rsc.org.uk