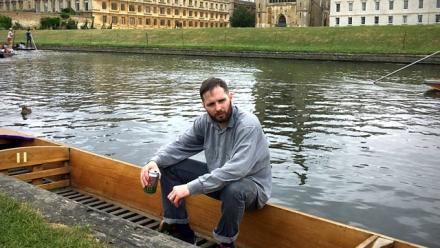 Ladhood is a new coming-of-age sitcom from Liam Williams.
Set across two timelines, present day London and mid-2000s Leeds, Williams skewers modern-day masculinity by delving into the memories of his own misspent adolescence, loitering in the streets, parks and graveyards of suburban Garforth with his best mates Ralph, Addy and Craggy.
Reflecting on lad culture and the formative experiences of his youth, Williams searches for the secret to a less idiotic future. But can he learn from his past mistakes?
Liam Williams is a writer, actor and stand-up. In 2018 his BBC Three series Pls Like gained a Bafta nomination for Best Short Form Programme. Ladhood was previously a Radio 4 series (the picture here was used to promtoe radio version)
Liam Williams says: "I am excited to take on the challenge of playing a discontented man in his early 30s, struggling to break patterns of selfish and destructive behaviour. It will be a real test of my range. I'm grateful also to the BBC for this opportunity to consider the experiences of my youth and how they've shaped my adult personality, the process having being cheaper, and hopefully funnier, than therapy."
Shane Allen, Controller of BBC Comedy, says: "Ladhood has an exquisite concept at the heart of it which presents a reflective perspective on who we were as teens and the formative experiences that shaped us. Liam's writing is pin sharp and this show has one of the most defining and original story-telling devices at the heart of it that we've seen since Peep Show."
Chris Sussman, Head of Comedy at BBC Studios, says: "We're thrilled to take Liam's brilliant series on a journey from radio to TV. He's a masterful storyteller, full of wit, warmth and compassion - which is surprising when you see what he was like as a teenage boy."
Ladhood is a five-part series for BBC Three. The Director is Jonathan Schey, the Executive Producers are Gareth Edwards and Chris Sussman and the producer is Joe Nunnery. It was commissioned by Damian Kavanagh, former Controller, BBC Three, and Shane Allen, Controller BBC Comedy commissioning. The BBC Commissioning Editor is Gregor Sharp.