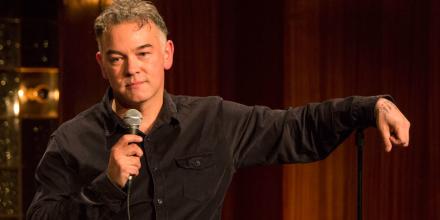 Stewart Lee is returning to full-length stand-up performance with two new sets - performed back-to-back.
There will be a double-bill of two new 60-minute sets called Snowflake and Tornado from "the world's greatest living stand-up" (The Times) together with a series of work-in-progress gigs to launch the DVD of his last show Content Provider at the Leicester Square Theatre.
The dates are Sept 25th – Oct 5th 2019 for the work-in-progress and DVD launch and then the run proper will be from Oct 29th 2019 – Jan 25th 2020 
Tornado questions Stewart's position in the comedy marketplace after Netflix mistakenly lists his show as "reports of sharks falling from the skies are on the rise again. Nobody on the Eastern Seaboard is safe."  
Snowflake questions Stew's worth in a society demolishing the liberal values he has been keen to espouse in a fairy-tale landscape of winter wonder.  
Stewart Lee began doing stand-up in 1988 at the age of 20 and won the Hackney Empire New Act of the Year in 1990. His recent live shows have been Carpet Remnant World (2011), Much A Stew About Nothing (2013), Room With Stew (2015) and Content Provider (2016 – 2018).  He made four series of Stewart Lee's Comedy Vehicle for the BBC which won Best Male TV Comic and Best Comedy Entertainment Performance at the British Comedy Awards in 2011 and a BAFTA in 2012.  His celebrated last live show Content Provider became a BBC special and will be released on DVD on September 25th 2019.  Stewart is also a newspaper columnist, an occasional music journalist and music radio presenter, and has published a number of books with Faber. 
Ticket link for work in progress shows here. Ticket link for SNOWFLAKE/TORNADO here.
Further work-in-progress gigs and SNOWFLAKE/TORNADO 2020 Touring to be announced, For full tour details click here (though there is nothing there at the moment)